Lisa Welch
Senior Director and University Data Officer
As a music major at Pepperdine, Lisa Welch found herself in the spotlight as an actress in many of the theatre departments' productions, but when she graduated, she found herself searching for her place in the working world.
Two years after graduating, Lisa found her way back to Pepperdine. "I knew a lot of my friends that worked at Pepperdine and loved it there, so I applied."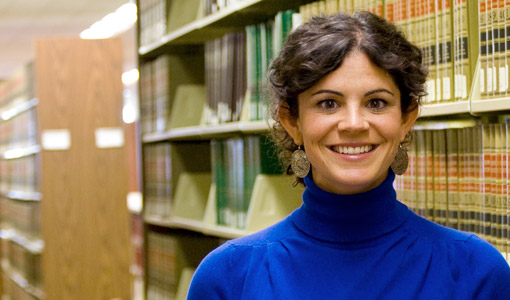 She ended up at the law school budget manager's office, and in four years, moved from an administrative assistant to coordinator to manager. After six years at the Caruso School of Law, Lisa transitioned to Information Technology, where she began as a lead business analyst and eventually rose to her current role as senior director and university data officer. "I thought it would be a transitional job, but I've found that I enjoy it here. I like the work, but my decision to stay has had more to do with my supervisor and the people around me."
Moving from the stage to the budget office might seem like a strange shift, but Lisa connected her job to her time performing in high school and college. "The one thing in common is the sense of community," says Lisa. "Every time I did a show, I developed a sense of family in that group, and I really needed that."
It's a good thing she had such a strong support structure at Pepperdine, because in her third year at the law school, she was struck with some serious health issues, and was forced to be out of the office for almost three months on sick leave.
Not only were her benefits in place, but the Pepperdine community also stepped up to support her. "I had all these people that told me that when I ran out of sick time, they would donate their accumulated hours," says Lisa. "I never felt that I was inconveniencing anyone. That was definitely the best possible situation for me. People actually care about you at Pepperdine."
Lisa benefits not only from the challenging work, great benefits, and educational opportunities Pepperdine provides, but takes part in something deeper, and it's that feeling that has kept her at the University. "I just can't imagine going somewhere else and finding the sense of family I feel here," says Lisa.
You can reach Lisa via email at lisa.welch@pepperdine.edu.
Read other stories and testimonials