Pepperdine Legacy Partners

Honoring Andy and Debby Benton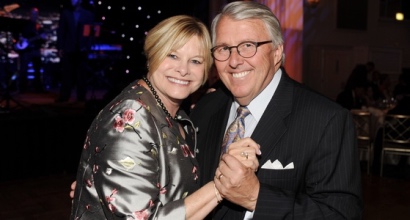 Over the years, Pepperdine Legacy Partners has had many friends and supporters, but perhaps none as important as President Andrew K. Benton. In addition to raising our University's standards for academic excellence, innovation, and public service, Andy has fully committed himself to our founder Helen Young's original mission: leading the way in opening new doors for our students and putting them in position to succeed.
Since he and his wife Debby have honored us for so long with their advocacy and support, we want to take this opportunity to honor them as they prepare to step down—with the Andy and Debby Benton Endowed Scholarship.
Don't miss out on the opportunity to GIVE TODAY and show your support for the Bentons!
The Associated Women for Pepperdine (AWP) was established by Helen Young in 1958 to raise funds to support Pepperdine College. Since that time, AWP has raised more than $4 million towards scholarships for students from Churches of Christ. After looking back on 60 years of fruitful work and prayerfully considering new challenges that lie ahead, the AWP Executive Board has determined that though AWP's mission has not changed, the name must.
AWP's new name, Pepperdine Legacy Partners (PLP), better reflects the ongoing collective efforts of both women and men, partnering together to continue George Pepperdine's legacy of equipping students to live purposeful Christian lives as servant-minded leaders throughout the world. The new name of PLP's scholarship recipients, the Helen Young Scholars, serves to honor the profound impact of its beloved founder. The Board is excited about these changes that not only honor AWP's past, but also effectively invigorate PLP's promising future.
Upcoming Events
May 30–June 1, 2019: PLP will host the annual Associated Women for Christian Education Conference