Boutique
At the present time, we have the following boutique items for sale:
Living Lights, Shining Stars, Dr. M. Norvel Young
2001-2012 Ornaments
This collection of 12 ornaments, ending with Pepperdine's 75th anniversary, are designed to "tell a story and capture the spirit of Pepperdine University." The three-dimensional brass collectibles are finished in 24-karat gold, enhanced with screen-printed coloring. The ornaments include a story explaining the significance of each detail of the design. They are presented in a gift box that is dated and stamped with a gold imprint of the design.
To order any of the items below, contact Tami Williamson at (310) 506-4567 or awp@pepperdine.edu.
Orders of 20 or more receive a 20% discount.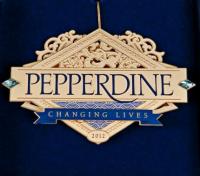 2012 Changing Lives $35
Seven presidents, each with distinctive leadership qualities, were called to guide Pepperdine University to become the global institution that it is today--"for such a time as this."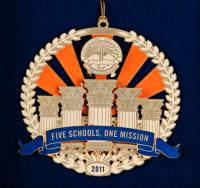 2011 Five Schools, One Mission $35
George Pepperdine College was dedicated in 1937. Nearly 75 years later, Pepperdine University is a respected global institution with five schools and colleges and 90,000 alumni. Each school represents a pillar of the University and the principles of the founder, who sought to educate men and women for lives of purpose, service, and leadership in the context of the Christian faith.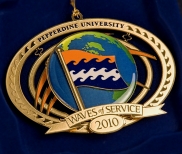 2010 Waves of Service Ornament $35
In 2009, the Alumni Leadership Council proposed to President Andrew Benton a global initiative that would encourage alumni to not only "serve where they are" in the world, but to share and celebrate their service with fellow graduates. This initiative echoes founder George Pepperdine's zeal for service among all those engaged with Pepperdine University.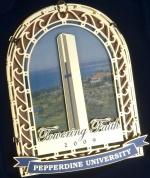 2009 Towering Faith Ornament $35 SOLD OUT
The Theme Tower's welcoming location makes it the University's most prominent and beloved landmark. Atop a grassy knoll at the dramatic main entrance of the Malibu campus, the Theme Tower stands as a beautiful and symbolic beacon of the Christian faith that is the University's foundation and future.

2008 Purpose, Service, and Leadership Ornament
Celebrating the 50th Anniversary of AWP $10
Pepperdine is a Christian university committed to the highest standards of academic excellence and Christian values, where students are strengthened for lives of purpose, service, and leadership. During this year, AWP is celebrating the 50th anniversary of it's founding by Helen M. Young. Our mission is to support Pepperdine University in its aims and ideals of Christian education and to provide scholarships for Church of Christ students.

2007 Embracing the Arts Ornament $10
Pepperdine provides a dedicated faculty and state-of-the art facilities for students to study, develop their skills and talents and perform and exhibit their work in the Fine Arts Division at the University.

2006 Athletic Ornament $10
Pepperdine provides student-athletes opportunities to develop their athletic and academic abilities at the highest standards of scholarship, sportsmanship, leadership, and institutional tradition. The objective of athletics is to uphold and fulfill the mission of the University by ensuring student-athletes are strengthened for lives of purpose, service, and leadership at a University committed to the highest standards of academic excellence and Christian values.

2005 International Programs Ornament $10
Pepperdine University is proud to note that more than 55% of our students become global citizens through our International Study Program, a top priority at the University. The ever-
expanding worldwide programs contribute diversity and perspective to participating students and faculty. This ornament is available both with or without a date. For the ornament without the date, a bar is available for you to personalize.

2004 Stauffer Chapel Ornament $10 SOLD OUT
The Chapel is a coastal landmark, overlooking the Malibu Pier and beach, and the seaside community of Malibu. The artistry of this magnificent stained glass window, designed by Bette L. and Robert D. Donovan, incorporates 105 hues and shades of vibrant color into a "Tree of Life" design. The ornament is available both with and without the date. For the ornament without the date, a bar is available for you to personalize.

2003 Heroes Garden Ornament $25 SOLD OUT
This ornament commemorating the Heroes Garden on the Drescher Campus, dedicated on September 11, 2003, is inscribed with "Greater love hath no man than this, that a man lay down his life for his friends" (John 15:13).

2002 Miracle at Malibu Ornament $10
There are still a few 2002 Miracle at Malibu ornaments available. It is a beautiful ornament displaying the waves and sun rays of Malibu. Describing Pepperdine as Sun-Kissed, Ocean-Washed, Island-Girded, Mountain-Guarded.

2001 Flag Ornament $35 SOLD OUT
This is the First Edition in a series of 12 ornaments for Pepperdine University by the Associated Women for Pepperdine. The flag ornament embraces the spirit of the University and, indeed, all of the United States following the tragedy of September 11, 2001.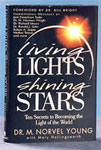 Living Lights, Shining Stars:
Ten Secrets to Becoming the Light of the World
by Dr. M. Norvel Young
$5 plus $3 shipping/handling
Jesus said Christians are the "light of the world"; Paul said followers of Christ are to "shine like stars in the universe." These bright metaphors are a bold contrast to the ever-increasing darkness of evil that fills our world. Can Christians change the world? Can we turn the tide for good in our society?
With inspiring messages from Joni Eareckson Tada, Dr. H. Norman Wright, Mother Teresa, Dr. Ronald J. Sider, and others, Dr. M. Norvel Young reveals ten practical and inspirational ways you can become the "living lights" Christ called you to be.
Rada Cutlery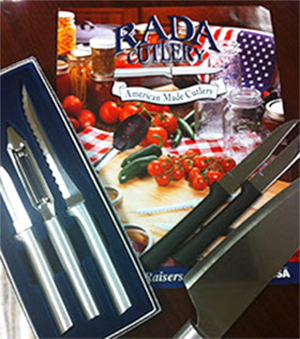 Rada is American made cutlery that provides great products ranging from individual knives to gift sets, serving utensils to candles, as well as cookbooks and stoneware. For a complete catalog please call the number below or email awp@pepperdine.edu
Please call (310) 506-4567 to order any of the above items.