Program Description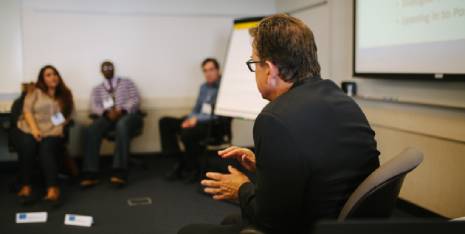 COMMUNITAS will bring together a cohort of early career pastors (i.e., in the pastorate from 5-12 years) from the greater Los Angeles area for a series of brief retreat-seminars spaced out over a one-year period beginning in August 2022 and ending in August 2023. These sessions will utilize Pepperdine faculty and staff who have particular expertise related to the topic under discussion and/or a relationship with the selected business and community leaders from the greater Los Angeles area to engage in direct conversation with these young leaders.
The first meeting is focused on orienting pastors to the program itself, building community among the program participants, and familiarizing participants with concepts related to organizational and community leadership and change. Each session (except the D.C. trip) will begin on a Monday afternoon and end on Wednesday afternoon, with each session devoted to a particular social issue that is important and relevant to the community. The program also includes a 5-day, 4-night trip to Washington, D.C. in October 2022 to examine issues of national and international importance.
---
Accommodations and Meals


The retreat-seminars will be held at two retreat centers, Serra Retreat in Malibu and Mary and Joseph Retreat Center in Rancho Palos Verdes.
All participants will have a private room. All session meals and accommodations and travel to Washington D.C. are free of charge*, thanks to a generous grant from the Lilly Endowment, Inc.
*COMMUNITAS is funded by a generous grant from the Lilly Endowment, Inc. All lodging, meals, and the program itself can be offered without charge to pastors selected to participate. Given the cost of the program (estimated at $15,500 per person) and the limited number of available awards, we do ask that all candidates only apply if they can commit to attending every session of the program.
---
---
COVID-19 Requirements

COMMUNITAS follows the COVID-19 policies of Los Angeles County and Pepperdine University. Therefore, COVID-19 vaccination (full vaccination at least 14 days prior to the first meeting) is mandatory. A negative COVID-19 antigeen test result at least 72 hours prior to the first meeting is recommended, as well as indoor masking with a surgical mask or better (N95 [without filter] or KN95).
Current Pepperdine University COVID-19 guidelines can be found here.
---
Application Materials


As you prepare your application materials, keep in mind that we are looking for younger pastors serving in congregational ministry in the greater Los Angeles area, who demonstrate confidence, optimism, and security in their pastoral role, and who have strong potential for the next two or three decades of Christian ministry. Applicants should have at least five years experience in full-time, congregational ministry, but not much more than twelve years. We are also looking for applicants who have developed a strong theological foundation for their ministry, whether through pursuing an M.Div. degree or continuing education, or through such avenues as an apprenticeship or close mentoring relationships.
The criteria for selection will include vocational clarity, theological acuity necessary to interpret their experiences in the program in light of the biblical narrative, appropriate balance of confidence and ability, good public speaking and preaching, a healthy ego necessary for creativity, integrity, and humility, and an ability to listen to and communicate with a diverse group of people from different social and theological backgrounds for the sake of the common good.
If you would like to recommend a pastor for this or future cohorts, click HERE. Cohort participants are chosen based on criteria outlined in Characteristics of a Successful Applicant.
Applications for the 2022-2023 COMMUNITAS Cohort are closed. Applications for the next cohort will be available in 2023.