Student-Led Ministries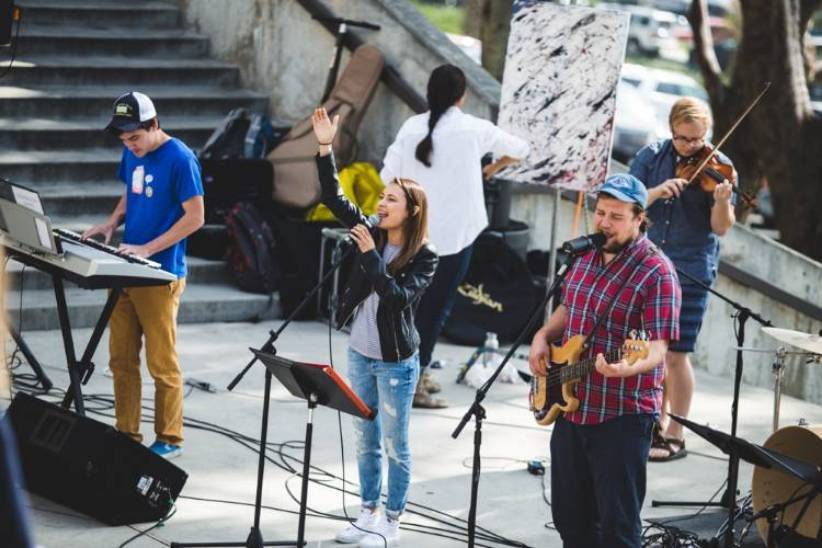 The Student-Led Ministry Program aims train, equip, and support students committed to taking leadership roles in the spiritual growth of their peers. Our Student-Led Ministry Program aspires to facilitate spaces for God to be glorified and seek to do so by equipping student leaders to foster spaces of worship and spiritual formation. From instrumental worship and preaching, to apologetics and Bible studies, we hope you will find a way to serve and connect with God through Student-Led Ministries.
Explore SLMs on Campus
Alpha Omega (AO) Waves is a Christian club that is devoted to creating a community that loves others through hospitality, service, generosity, & purpose! Our mission statement is to love like Jesus & live like Jesus!
Meets on Tuesdays at 7:30 PM in the Lighthouse
Contact: sofia.thure@pepperdine.edu
Catholic Student Association (CSA)
CSA seeks to enrich the faith journeys of students inspired by the Catholic faith at Pepperdine by providing a community of love and support, fostering exploration and growth in faith, and inspiring students to live service-driven lives.
Meets on Thursdays at 7:00 PM
Contact: noelle.cottingham@pepperdine.edu
Celebration Chapel seeks to build community and spread truth through student-led worship and teaching while creating space for non-Christians to interact with Christians in meaningful ways. Celebration Chapel also fulfills the RISE/Connection Chapel credit.
Meets on Wednesdays at 10am in the Amphitheater
Contact: phillip.young@pepperdine.edu
Greek InterVarsity is focused on connecting students in Greek life with Christ and giving them opportunities to grow and learn about faith.
Monthly Meetings on Thursday evenings
Contact: joe.sadler@pepperdine.edu
Koinonia Campus Mission (KCM)
KCM exists to care for collegians by discipling them to value the glory of God through local and global witness to ultimately benefit and build up the local church of Jesus Christ. KCM has opportunities for weekly worship and fellowship, inter-campus events, testimony sharing, small groups, and participating in short-term mission trips.
Meets Tuesdays at 7pm in Stauffer Chapel
Contact: gabriel.yip@pepperdine.edu
Mandarin Christian Student Ministries (MCSM)
MCSM invites Mandarin-speaking students to join a loving, genuine Christian fellowship that is rooted in the love of Christ with a mission of equipping Christian leaders, evangelism, and community building.
Meets Fridays from 6-9 PM (board games from 9PM-12AM)
Contact: MCSMPepperdine@gmail.com
Veritas is a student-led ministry committed to pursuing truth through conversation. We welcome people of all backgrounds so that we can encounter truth together.
Meets on the first and third Thursdays of every month at 7pm in the Great Books room.
Contact: julie.tingleff@pepperdine.edu
Word Up is a gospel-centered, inclusive worship community that highly emphasizes and values the ministry of the Holy Spirit and promotes freedom of worship through a blend of gospel, traditional, and contemporary worship.
Monthly Monday Worship Nights in the Stauffer Chapel
Contact: zacharias.tapp@pepperdine.edu