William S. Banowsky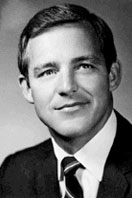 During the exciting decade from 1968-1978, William S. Banowsky led the development of Pepperdine College from a small, inner-city school to a major university on the rim of the Pacific, elevating it from economic uncertainty to unqualified solvency with assets of $125 million and a student body approaching 8,000. Moreover, he built a solid base of donor support, and it was his ability to promote the promising future of the University that led to the oft-called "miracle at Malibu."
Bill was one of four Banowsky children born about the time that businessman George Pepperdine was starting his college in south-central Los Angeles. His father, a schoolteacher and administrator for thirty-one years, noted Bill's early propensity for leadership, a hint of the man who in 1971 would become one of the youngest college presidents in America. A natural athlete, Banowsky earned a baseball scholarship to Nashville's David Lipscomb College, where he majored in history and minored in speech.
Comfortable in church pulpits even as a very young man, Banowsky began his preaching career in 1958 while finishing his bachelor's degree, ministering to Nashville congregations of the Church of Christ. A year later, he and his family headed for Albuquerque and the University of New Mexico, where Banowsky would earn his master's degree in speech communication in a single year while preaching for the Netherwood Park Church of Christ.
Pepperdine president M. Norvel Young, on the job just two years, persuaded Banowsky to join the college in 1959 as assistant to the president. He divided his seemingly inexhaustible energies between duties at Pepperdine, a doctoral program at the University of Southern California, and a Sunday preaching commitment at South Gate Church of Christ. By 1963, he had been promoted to dean of students at Pepperdine and completed his Ph.D. in speech communication.
Having been fully immersed in academia for eight years, Banowsky left Pepperdine to accept an influential ministry at the 2,000-member Broadway Church of Christ in Lubbock, Texas. His five-year tenure at the Broadway Church-where Young had served as minister for thirteen years-resulted in significant growth within the church membership. He supplemented his ministry with work in education, serving nearby Lubbock Christian College as a professor of speech communication and as a member of its board of trustees.
In California, the 1,500-student Pepperdine College was at a crossroads. Situated on a cramped 34-acre site with neither space nor funds to expand, and faced with increasing competition for students, President Young recognized that the college desperately needed an infusion of new energy. Young had followed Banowsky's accomplishments at the Broadway Church and convinced him to return to Pepperdine as executive vice president.
With Banowsky's almost prophetic return to Pepperdine in 1968, the dreams of Young and many others began to take shape in an ambitious master plan that called for the establishment of a new campus and the addition of professional and graduate programs. The pioneer Adamson-Rindge family had made its gift of 138 acres of prime Malibu real estate. Now, the determined team of Young and Banowsky was prepared to somehow find the funding to construct a new campus at a juncture in history when many colleges were closing their doors.
Banowsky became chancellor in 1969 and turned his attention to raising money for the Malibu project, a task for which he was virtually untested save his work on behalf of special projects. He exceeded expectations, though, and ground was broken on the windy bluffs of Malibu in 1970. A year later, amid the flurry of construction in preparing for the 1972 campus opening, Pepperdine College was elevated to university status and William S. Banowsky was named its fourth president. The 34-year-old chief executive was firmly on the rise when Time magazine in 1974 named Banowsky one of America's two hundred leaders of the future.
During the course of his meteoric career, Banowsky carved out time to write and publish three books, including The Mirror of a Movement, based on the Abilene Christian College Bible lectures. He also wrote It's a Playboy World, which grew out of "Christianism and Hedonism: A Clash of Philosophies," a 1967 televised debate between Banowsky and Anson Mount, then religion editor of Playboy magazine. His third book, The Now Generation, was published in 1969.
Campus construction continued at a steady pace during Banowsky's tenure. New programs were added, and the School of Law in Orange County moved into its spectacular Malibu campus facility. Banowsky also expanded Pepperdine's Board of Regents from twenty-one to forty members, adding influential business leaders to the governing body.
The Banowsky era at Pepperdine came to a surprising close in August 1978, with news that the university's fourth president would take the helm at the University of Oklahoma. Howard A. White, Banowsky's former professor, longtime executive vice president, and eventual successor as Pepperdine's fifth president, affirmed the singular qualities of the departing executive: "If this university and Seaver College were to last a thousand years-and I pray God they will-the name of William S. Banowsky will be illustrious in all those years for the magnificent work that he has done."