M. Norvel Young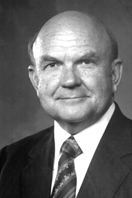 The roots of M. Norvel Young's family furrow deeply into Tennessee soil. Grandson of a gentleman farmer and Christian publisher and son of a Nashville businessman, Norvel left his home state to earn his bachelor's degree at Abilene Christian College. He received his master's degree at Vanderbilt University in 1937, the same year George Pepperdine was making plans for a new college in Los Angeles.
Young's parents were good friends of Batsell Baxter, a Tennessee educator whom George Pepperdine first approached to become the first president of Pepperdine College. Young visited the new campus in December 1937 to speak to the students in chapel, and returned a year later to join its faculty.
He moved comfortably each week from the college lectern to the Sunday pulpit, preaching for the local York Boulevard Church of Christ. He also fell in love with Pepperdine senior, Helen Mattox. Young made the promise that if she would marry him, she would remain forever "young."
On the eve of World War II, Young accepted the call of a Nashville congregation, returning with Helen to preach at the College Church of Christ while pursuing his doctorate at George Peabody College. In 1944, he ascended the pulpit of the Broadway Church of Christ in Lubbock, beginning a 13-year ministry that included construction oversight for the largest Church of Christ building in the world. He also led a church-funded postwar relief effort in Germany, distributing clothing and care packages to war-torn Europe. In 1956, he joined Helen's brother in founding Lubbock Christian College. A year later, Norvel accepted the challenge of George Pepperdine to succeed retiring President Hugh Tiner.
He was appointed Pepperdine's third president on the advent of its twentieth year, wooing top-flight scholars to the Christian college and promoting its mission to a growing circle of friends. During his term, Pepperdine's student body increased tenfold, from 950 students to 9,500, and moved from its original Los Angeles venue to Malibu, a campus he described as "Eight hundred thirty acres-smog free, sun-kissed, ocean washed, island girded and mountain guarded."
He added a residential campus in Heidelberg, Germany, and educational centers in Los Angeles, Orange County, and San Fernando Valley. And he founded the Business School (now the Graziadio School) and the Graduate School of Education and Psychology.
The college became Pepperdine University at the end of Young's era, countering a turbulent tide in education that saw many colleges retrench or close their doors. When Bill Banowsky was named president in 1970, Young became chancellor and later chancellor emeritus, continuing to make friends and raise funds that today ensure a strong endowment and Pepperdine's continuing rise to prominence. Still working daily with zeal for the university he loved, Young died in his campus home on Feb. 17, 1998.