David Davenport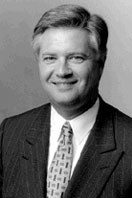 President David Davenport called his inaugural address, given October 21, 1985, "Lighting the Way." From that day forward, it became his trademark theme. In the address, he said, "From the earliest of times, men have spoken of the darkness of ignorance and the light of knowledge; the darkness of the unknown and the light of discovery; the darkness of aimlessness and the light of values." He noted that, beginning with Harvard, values have always taken their place next to reflection and discovery. And throughout his tenure, President Davenport insisted that Christian values be at the core of University life.
Like presidents William S. Banowsky and Howard A. White before him, David Davenport ascended to the presidency as an "inside man." He began his Pepperdine career in 1980 as an assistant professor of law, was promoted to general counsel of the University and associate professor a year later, and in 1983 was named executive vice president, second in command only to President White.
Though the Board of Regents began an aggressive search for a presidential successor when White announced he would step down in April 1985, their quest came full circle to Davenport. The board was greatly impressed by his ability to communicate his vision for the future, and his keen intellect and strong personal values made him an obvious choice to be Pepperdine's sixth chief executive.
Following in the tradition of the second and fourth presidents of Pepperdine, Davenport was not yet 35 years old when he was inaugurated. As did his predecessors Hugh Tiner and William Banowsky, he carried the distinction of being one of the youngest college presidents in the country.
Davenport took his studies seriously in high school while putting plenty of hours in at the family-owned Lucy Lynn Pastry and Party Shop. Somewhere between cracking the books and fashioning pie crusts, he gave considerable thought to careers in government, law, and the ministry. He chose Stanford University for his undergraduate work in international relations, and interned two summers in Washington DC, serving on the staff of senator Robert Dole and later in the Executive Office of the White House.
Graduating with distinction from Stanford, he returned to his home state for his law degree, earning national and international awards in the moot court competition while at the University of Kansas. He was elected to the prestigious Order of the Coif and was an editor on the Kansas Law Review.
Sally Davenport first became acquainted with her future husband at Kansas' Overland Park Church of Christ, where he was serving as youth minister. They later attended the University of Kansas together, he as a law student, she as an undergraduate studying graphic design. In 1977, fresh out of school and newly married, the Davenports headed for California and the San Diego law firm of Gray, Cary, Ames & Frye. David immersed himself in corporate litigation work.
While legal work was both challenging and exciting, Davenport missed the close contact with people that work in the ministry provided. He requested a yearlong leave of absence from the law firm to fill a temporary ministerial vacancy at the nearby El Cajon Boulevard Church of Christ. During the course of the year, Pepperdine came to his attention. He thought it was the ideal place for him to continue to use his legal training, and because it was a Christian school, it would encourage his interest in ministry. He was offered—and accepted—an assistant professorship at Pepperdine's School of Law, which later led to his being named general counsel for the University.
Pepperdine has a long tradition of making room for its rising stars. Davenport's outstanding performance as general counsel commended him to greater responsibilities in 1983. As executive vice president, he became White's chief operations officer, chairing numerous committees, meeting daily with vice presidents, faculty, and students, putting out fires—and fueling a few. It was during this period that he called an old friend of his from the Midwest—Andrew Benton, who would succeed him as Pepperdine's seventh president—and asked him to join the Pepperdine team. Whether Davenport realized it or not, he was president-in-training, and few people at Pepperdine were surprised—or disappointed—when the Board of Regents one year later announced its unanimous selection of David Davenport as the sixth president.
Davenport knew that being a university president also meant plying his skills as a P.R. man. With Pepperdine's $100 million "Wave of Excellence" campaign requiring a constantly high public profile, his initiation into alumni and donor relations was immediate. But that ambitious project prepared him for an even bigger one. In 1992, the University launched its eight-year, $300 million "Challenged to Lead" campaign, which concluded in July 2000. With Davenport as its shepherd, this bold initiative increased Pepperdine's endowment nearly sixfold, from $56 million in 1986 to more than $386 million in 2000.
The Davenport term at Pepperdine saw many notable achievements throughout these two campaigns, among them the completion of the Thornton Administrative Center and major expansion of Payson Library; implementation of an overseas study program in Florence, Italy; the establishment of a doctor of psychology degree program and a Malibu MBA program; several major building projects that involved the expansion of the Natural Science, Communication, and Business Administration Divisions; and above all, the establishment of a fifth Pepperdine graduate school—the School of Public Policy—and its attending outreach arm, the Institute for Public Policy.
After nearly 15 years at the helm of Pepperdine, Davenport announced in 1999 he would not seek another term as president. The dismay of the University community was tempered only by the fact that the Board of Regents chose a man handpicked by Davenport to help him guide the University through the turbulent 1980s and '90s—Andrew K. Benton—who served Pepperdine as its seventh chief executive until July 31, 2019.
Davenport's legacy is a strong one, and to honor his achievements throughout his 15-year career, the University endowed, with the significant help of regent Flora Laney Thornton and many other good friends, the Davenport Institute for Public Policy. Because of his service, Pepperdine University was perfectly situated to "light the way" into the 21st century.