First 100 Days
Welcome—and thank you for supporting our worthy students by giving to and being a part of the First 100 Days campaign. The energy and enthusiasm we built in our first 100 days will help us scale the mountains ahead of us and lift Pepperdine to new heights of achievement. No single person can make that happen alone, so I am especially grateful to you for joining us as we ascend together.
–President Jim Gash
---

What You've Helped Us Accomplish
The First 100 Days campaign was a remarkable success, with nearly every goal met—or exceeded—in terms of gathering resources and making personal connections. But these milestones are about more than just raising money, shaking hands, or signing up new Associates. They show just how much our worldwide Pepperdine community can accomplish when we unite for a common purpose. Whether you made a major gift to the University or shared your time with President Gash at a campus luncheon, you played a part in that success—and we hope it has strengthened your confidence that, with the same sense of unity and purpose, we can ascend to even greater heights of achievement and excellence in the months and years to come. We're grateful for your help in getting this far, and we look forward to continuing Pepperdine's extraordinary journey with you.


---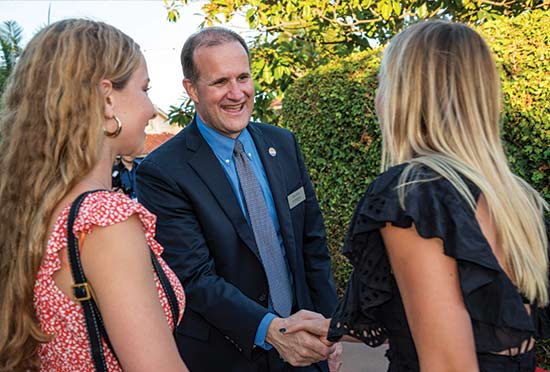 Thanks to Our Donors
Pepperdine is grateful for the alumni and friends who stepped forward to support President Jim Gash and his ambitious plans for the future of Pepperdine University.
---