Andrew K. Benton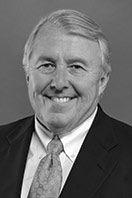 Throughout his 19-year tenure at the helm of Pepperdine, President Andrew K. Benton could be regularly found eating lunch in the Waves Cafe at the center of the Malibu campus. This simple yet deeply impactful daily practice gave him an opportunity to establish a casual rapport with students and demonstrate his desire to always be in touch with their concerns and experiences. His affability and accessibility earned him the nickname of the "students' president," a moniker that aptly describes his tenure as the seventh and longest-serving president of the University.
Born and raised in Lawrence, Kansas, during the 1960s, the sociopolitical tumult of the time shaped Benton's outlook and developed in him the capacity to consider an issue from many perspectives. Recognizing his influential leadership skills early in life, Benton served in an executive role in his high school student senate and as an undergraduate student at Oklahoma Christian University. Benton graduated with a bachelor's degree in American studies in 1974 and married Debby Strickland that year with plans to pursue a legal career as an attorney or a judge.
Immediately after graduating with a juris doctor degree from Oklahoma City University School of Law in 1979, Benton opened a private law practice in Oklahoma, but he also felt compelled to answer the call to work with young people in higher education. In his early years as a practicing lawyer, Benton simultaneously served in various administrative roles at his undergraduate alma mater—an opportunity that eventually led to a request to resolve regulatory issues for Pepperdine University. The Bentons arrived in Malibu in 1984 with their then 1-year-old daughter, Hailey, with plans to stay for only two years.
The couple grew to love life on the West Coast and their engagement with Pepperdine's unique spiritual and academic community. Benton's skills as an administrator led to increasing responsibility at the school, including a key role as liaison between the University and state and local governments as he moved through several leadership positions. In 1991 he was named executive vice president and chief operating officer, a mantle he held for nine years.
In 1999 his predecessor, David Davenport, announced that he would be stepping down as the sixth president of Pepperdine. Earlier that year the Board of Regents was struggling with the difficult decision of whether to move forward with the construction of the five-building Drescher Graduate Campus. At a particularly critical meeting, Benton harnessed his legal expertise and reminded the group of the land-use regulations that limited their chance to build. His conviction that such a significant expansion (and expense) was in the best interest of the University, and his supervision of the successful completion of the construction ahead of schedule and under budget demonstrated his skills as an executive. Benton believes that his advocacy on behalf of this significant project was important to his selection as the new president.
Benton's inaugural address on September 23, 2000, "Promises to Keep," set forth his vision for his Pepperdine presidency. He spoke of strengthening the institution in key areas, particularly its resources and diversity, its relationship with its heritage, its sense of community, and its emphasis on scholarship and culture. In each arena, Benton kept his promise. With an awareness of the size of the challenge, he committed to generating a $1 billion endowment. During his administration, Benton's passion led Pepperdine to prominence among the nation's top universities, overseeing key initiatives including the construction of the Drescher Graduate Campus and identifying headquarters for the Pepperdine Graziadio Business School and Graduate School of Education and Psychology at a new campus in West Los Angeles. Progress during his tenure is also marked by the launch of Waves of Innovation; the dedication of the Keck Science Center, Mullin Town Square, and the Runnels Sports and Recreation Village; and the endowment and creation of more than a dozen centers and institutes across the institution. Payson Library was also dramatically renovated to be more user and environmentally friendly under his guidance.
To Benton, a diverse experience was integral to a Pepperdine education, and he spoke of diversity as "one facet of the prism of values formed by our mission." Under his leadership, the school welcomed a significant increase in the percentage of international students, and by the time he concluded his tenure as Pepperdine's chief executive, more than two-thirds of Seaver College students studied abroad over the course of their Pepperdine education, establishing Pepperdine as the Number 1 school in the country for such participation. During his tenure, Pepperdine's global presence grew to include campuses in Lausanne, Switzerland; Shanghai, China; and Washington, DC.
As a man who started each morning praying for Pepperdine because he believed it gave him "a competitive advantage for the rest of the day," maintaining the school's connection with its Christian heritage came naturally to Benton. Toward the close of his tenure, Benton's commitment to strengthening Christian higher education and Pepperdine's Church of Christ roots was recognized by the Pepperdine Legacy Partners (formerly the Associated Women for Pepperdine), which established the Andy and Debby Benton Endowed Scholarship to further the scholarship opportunities for the school's Christian students.
The sense of community that Benton spoke of in his inaugural address pertained to the school's identity. Pepperdine must not, he said, fall into the trap of choosing between being "academically excellent or true to our faith," and his determination to keep the University's mission in sight at all times never wavered. Perhaps less intentionally, Benton also personally nurtured the sense of community that those affiliated with the school experienced. He enjoyed getting to know the students, considering his own home on the campus as "the students' clubhouse." He taught a law class each year as a way to both contribute to the academic vigor that the school had come to be known for and to also keep in touch with students. Benton and his wife hosted gatherings and attended a multitude of student events, letting the student body develop an intimacy and comfort level with him and the first lady that is rarely found on a campus the size of Pepperdine. In an interview a few months before his retirement, he said that he wanted students and alumni to feel that Pepperdine was their home, and he made every effort over the course of his career to engender that sentiment.
Beyond the warm, communal atmosphere that Benton reinforced through both his official duties and personal correspondence, Pepperdine also thrived academically under his leadership. He understood the tension between scholarship and excellence in teaching and was determined to ensure that the faculty of all five Pepperdine schools were exemplary in both arenas. During his tenure the University's research centers and institutes grew dramatically: the School of Law established the Palmer Center for Entrepreneurship and the Law; the Nootbaar Institute on Law, Religion, and Ethics; and the Wm. Byrne, Jr., Judicial Clerkship Institute. The Institute for Entertainment, Media, and Sports was created to pursue research and generate leadership in media and entertainment, with programs involving three of the five schools. A number of new graduate degrees were offered, including the master of legal studies at the law school and the master of science in applied finance and in global business at the Graziadio Business School. The Graduate School of Education and Psychology developed the University's first PhD program, due in large measure to Benton's support. While college rankings tell only a part of a university's story, Pepperdine's U.S. News & World Report ranking remained steadily among the top 60 universities in the country while Benton was in office, finishing in both 2018 and 2019 at Number 46.
Following the announcement that Jim Gash (JD '93), associate dean for strategic planning and external relations at the School of Law, would succeed him as president of Pepperdine on August 1, 2019, Benton was named President Emeritus and continues to serve the University beyond the conclusion of his presidency. In a Pepperdine Magazine article that celebrated Benton's impact on the University throughout his Pepperdine career and the legacy he would leave on a place about which he cared so deeply, he expressed, "Wherever I am, whatever I am doing, I will always look for ways to advance Pepperdine."
The Pepperdine community will remember the Benton years as a time of great expansion for the University, both physically and academically. With an eternally optimistic view of the future, Benton has said that he prefers to look ahead rather than in the proverbial rearview mirror. And as members of Pepperdine's community—past, present, and future—travel through the campus landscape from Benton Way to the Drescher Graduate Campus, they may think of how his vision, determination, and heart have contributed to its creation, along with the many other ways Benton's dedication to advancing Pepperdine has appeared throughout his 35 years of service to the University.