The Engagement Center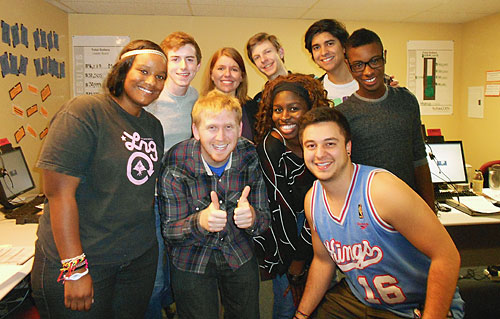 Through Pepperdine's phone program, current students serve as proud representatives of the University. Pepperdine students enjoy sharing campus experiences and news with alumni and parents, while updating contact information and seeking partners to enhance the University mission.
The Pepperdine Fund strives to maintain ongoing personal contact with our alumni and parents, a group of more than 100,000 constituents. Our student calling team plays an integral role in meeting this goal by reaching more than 30,000 Pepperdine community members each year.
Frequently Asked Questions
1. Why are you calling me?
For several reasons, Pepperdine attempts to maintain contact with as many alumni and parents as possible. We want our alumni to feel connected to Pepperdine and be aware of current and upcoming events. To best serve our Pepperdine community, we also want to ensure your contact information is kept up-to-date. Lastly, we want to ask for your support in providing funding for student scholarships, campus activities, and ground-breaking initiatives in all areas of the University.
2. Who makes these calls?
After our interview and training process, 60-70 current Seaver and graduate program students place calls on behalf of Pepperdine University to our alumni. The callers use a software called RNL Engage Campus Call, a nationwide company specializing in educational and nonprofit fundraising. The Call Center manager, Ryan Montague, is a member of The Pepperdine Fund team in Pepperdine's advancement office. He is the university liaison with the Engagement Center and meets regularly with the advancement office to monitor alumni support and ensure that the program meets Pepperdine standards.
3. Why is a gift of any amount important?
Alumni support is critical to Pepperdine's success as a preeminent, global, Christian university. A gift of any amount counts towards our alumni giving percentage, which is used by U.S. News & World Report to rank universities, by corporations and organizations in selecting grant recipients, and by prospective students and donors as a direct indicator of alumni satisfaction with their Pepperdine experience.
4. Is it safe to donate by credit card?
Giving by credit card is the best option – for us and for you! We can avoid the administrative and environmental costs of sending a pledge packet and any pledge reminders (which include a letter, envelope, return envelope and postage). To ensure that you are able to make your credit card gift at the best time for you, the student caller will ask if you would like to defer your gift – allowing your credit card to be charged on a future date.
We understand any concerns you may have about credit card security. However, please be assured that our student callers, Gifts Processing department, and University computer systems adhere to PCI compliance guidelines (a set of requirements designed to ensure that all organizations that process, store, and transmit credit card information maintain a secure environment). Your credit card number is never stored by our students or by Pepperdine, so you will be asked for your credit card information each year we contact you. If you are wary of giving your credit card information to a caller claiming to be a Pepperdine student, please contact The Pepperdine Fund at (310) 506-4579.
5. Why do you ask me to commit to a specific amount on the phone?
A commitment over the phone is important for several reasons. First, a committed pledge amount is needed in order for our system to generate a pledge packet. Once you receive the pledge packet in the mail, you are always free to change the amount before sending your gift back to Pepperdine. Secondly, a commitment helps us to track our progress throughout the year and determine how close we are to achieving our goals. Finally, a pledge commitment serves as encouragement to our student callers that you are willing to support Pepperdine and are serious about making a gift.
6. Why are you calling me if I'm on the National Do Not Call List?
Legislation regarding the National Do Not Call list exempts nonprofit organizations. We hope that since you are receiving a call from your alma mater, you will welcome a call from Pepperdine. If you would like to be placed on Pepperdine's Do Not Call list, please inform the student caller or send an email to pepperdine.fund@pepperdine.edu.