The Mountain at Mullin Park
A $150 million fundraising priority, the Mountain will draw our campus community to a higher place, together.
Elevating the student experience and actively advancing the University's commitment to growing an authentic community of belonging, the Mountain will transform Pepperdine's campus life and raise the standard of excellence for our Waves athletics teams. Not only will this state-of-the-art complex be home to leading fitness and well-being resources for the entire Pepperdine community, the estimated 3,600-seat arena will give our basketball and indoor volleyball teams an extraordinary home court facility commensurate with those of our top competitors throughout the West Coast Conference.


"[The Mountain will be] a student union in the heart of our residential community, a gathering place for food and connection, a world-class fellowship center inside a complex dedicated to serving our students' physical, mental, emotional, and spiritual well-being. A long overdue athletics arena that matches our aspirations for excellence."

– President Jim Gash
A Look at the Mountain
For the first time at an indoor campus venue at Pepperdine, a 360-degree, high-definition scoreboard and video system will display on-court action, dramatically boosting fan participation and instilling Waves pride in students, alumni, and fans.
An amenity-filled clubhouse and two exclusive viewing suites will ensure that Pepperdine VIPs get a clear full-court view of our Waves teams in action while offering the comforts of a private living room-style space. Above all, the arena promises to attract bright new talent while raising the expectations of our already high-achieving athletic programs.
Custom-designed locker rooms for our men's and women's basketball and indoor volleyball teams will ensure ample personal storage space for each athlete, support the daily grind of long hours of practice, bolster team confidence, and help to sustain a high-performance culture. Adjacent to the arena, the multi-activity court (MAC) will serve as the main practice facility for our teams as well as a recreation space for students.
In addition to being a focal point for Waves athletics and providing a greater sense of community for the entire student body, the arena will open up new opportunities for signature University-wide indoor events. We envision hosting concerts, distinguished lecturers and discussion panels on prevailing issues, worship services, career fairs, TED Talks, dinner programs, and much more. Current Pepperdine events and celebrations, such as Harbor and Waves Weekend's Midnight Madness would make use of the larger and more accommodating gathering space to ensure all are welcome.
Large-scale University events presented at the arena will enable us to welcome greater numbers of guests to campus and provide more opportunities to connect our community through shared experiences. In addition, the arena will include a host of smaller reception spaces, a centrally located Student Café, a green room for speakers and presenters, catering kitchens, a series of accessible loading docks, and substantial storage areas that are essential to reconfiguring the many multifunctional spaces.
The central plaza connecting the arena and RISE building will provide large outdoor gathering spaces suitable for catered events, as well as inviting benches and seating areas for small group study or quiet moments of personal reflection. The highest point of the Mountain, the Vista Tower, will overlook the lower campus and offer stunning views of Mullin Park and the Malibu coastline.
Equipping Students for Success
The Mountain will also feature Pepperdine's ground-breaking RISE (Resilience-Informed Skills Education) program, which builds the physical, cognitive, social, emotional, and spiritual resilience of our students by providing them with frameworks to navigate life's difficulties. The new RISE building will offer valuable resources helping our students to develop strategies to alleviate the stressors of college life and overcome challenging circumstances.
A three-story fitness, wellness, and recreation center will serve as the headquarters for RISE. The building will provide multiple indoor and outdoor areas where students can engage in meaningful conversation, deepen faith connections, and invigorate their minds and bodies. The entire first floor of this multifunctional facility will be dedicated to student fitness, offering cardio and resistance machines, free weights, and space for yoga and Pilates. The second floor will provide cabana-style locker rooms and areas for group workout activities, such as CrossFit, aerobics, and circuit training. The third floor will house offices for RISE counselors and campus recreation services, study spaces, a lounge, and an instructional space for training sessions designed to enhance the resourcefulness and well-being of our students.
Expanding our picturesque Pepperdine campus village, the Mountain will be strategically located on a plateau in the heart of student residential life, where the beauty of our surroundings will be on full display with spectacular views of Stotsenberg Track, the Raleigh Runnels Pool, Alumni Park, the Santa Monica Mountains, and the Pacific Ocean.
Construction of the Mountain is scheduled to begin in January of 2024 with the entire project expected to be completed by late 2026. We are presently exploring ways to begin construction in 2023, but the possibility is dependent on regulatory approval processes.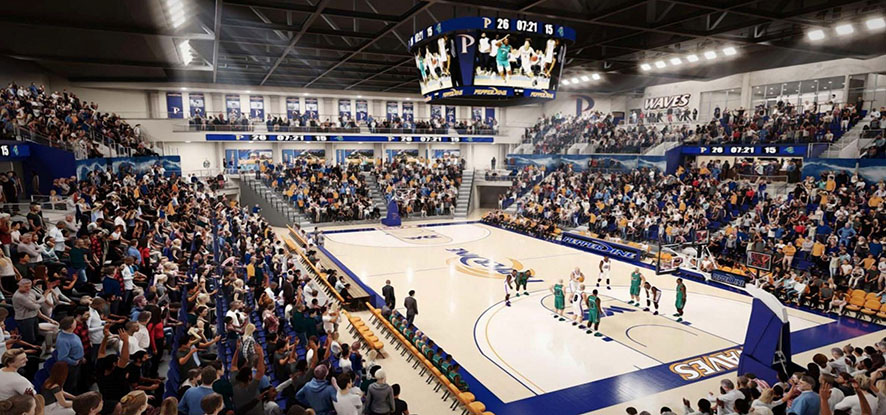 Name an Arena Seat
This state-of-the-art 3,600-seat facility will be home to future Waves athletic games as well as world-class community events. Take advantage of this limited-time opportunity and purchase a seat today!
Below are three categories of arena seats from which to choose. Your seat will be affixed with a permanent plaque inscribed with your name. Your named seat does not include season tickets to future athletic or University events.
Premium Seat | $7,000 per seat
Lower Bowl Seat | $5,000 per seat
Upper Bowl Seat | $1,000 per seat