46th Annual Pepperdine Associates Dinner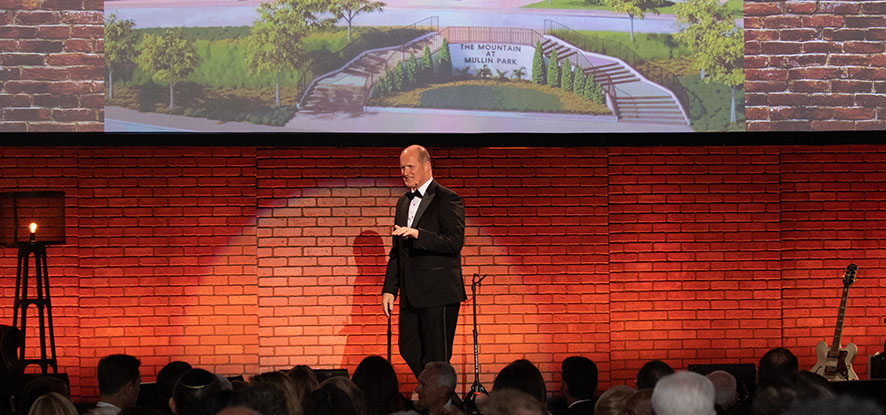 Gala Draws Support and Waves Pride
The 46th annual Pepperdine Associates dinner took place at the Beverly Wilshire on Saturday, May 7, 2022. A lively crowd of alumni, parents, faculty, staff, and friends gathered to celebrate the impact of our devoted Pepperdine supporters and the continued progress of our programs. Following two years apart, this gala event reunited our University-wide community for an inspiring night of music and fellowship.
University Board member, Marlyn Day ('90, JD '94), and her husband Robert served as dinner chairs, welcoming guests and applauding the resilience and unity of our entire Pepperdine community. The dinner theme, "One Voice," was amplified by the evening's featured entertainment, GRAMMY® Award-winning country superstar Clint Black and talented Nashville singer songwriters Kelley Lovelace and Chris DeStefano. Making a surprise appearance at the end of his set, Clint Black's wife, Lisa Hartman, and daughter, Lily Pearl Black, joined him onstage for a rousing performance to conclude the show.
During the evening, President Gash cast the University's vision for the Mountain, Pepperdine's future state-of-the-art recreation and events facility and game-changer for our campus community.
He shared a video featuring the monumental scope of the project and recognized the generous benefactors who have already stepped forward with major commitments to support the project: Sharon and Terry Mullin, Paula and Ed Biggers, Rita and Dale ('64) Brown, Julia Donzis, Carole and Danny Phillips, Celeste and John Plueger, Jenny ('76) and Fred Ricker, Dee Anna ('86) and Hubie Smith, and Bui ('96) and Herb Simon.
Home to preeminent physical and mental wellness resources for the entire student body, the Mountain will give our basketball and indoor volleyball teams a home court facility that matches their accomplishments and competitive spirit. In the heart of our campus living and learning community, two prominent student-serving facilities—linked together by a beautifully landscaped central plaza—will welcome students from early in the morning until late at night. Accommodating the busy schedules of college life, the Mountain will meet the needs of our 21st-century students in a safe, inclusive, and uplifting environment.
A night to remember, the Pepperdine Associates dinner energized all who attended and affirmed our community's commitment to students, one another, and the shared values that animate our mission of service.