Parent and Family Leadership Council
The Parent and Family Leadership Council at Pepperdine University is a select group of dedicated parents and family members who serve as ambassadors to the Wave family community and provide volunteer and philanthropic support for students at Seaver College. Members explore the council's initiatives through meetings and activities and share this information with the broader parent committee.


Activities
Parent Council Meetings
The leadership council convenes on campus twice annually, once each semester. The meetings allow members to meet other parents from across the country, give their feedback on current parent issues and activities, and learn about ongoing initiatives at Pepperdine from faculty, senior administrators, and the deans. The fall meeting is on the Friday of Waves Weekend, and the spring meeting is on a Friday in February or early March.


Welcome Calling
Council members contact new families in their regions to welcome them to Pepperdine and offer assistance as a resource as families orient themselves to the University.


Regional Events and Welcome Receptions
Council members may host local events and attend receptions as ambassadors for the University.


Support
Council members support the University annually through Pepperdine Associates memberships in furtherance of several initiatives. The 2022–2023 initiatives are the Student Resilience Program (RISE), endowed scholarship support, and the Career Center. The funding initiatives change yearly and are decided upon by the Seaver College dean, the vice president of student affairs, and the national co-chairs of the Parent and Family Leadership Council (PFLC).


Levels and Benefits
Annual $2,500+ gift designated to PFLC initiatives
Associates membership
Four reserved seats at commencement
Annual $5,000+ gift designated to PFLC initiatives
Associates membership
Six reserved seats at commencement
Monthly Wave updates and webinar opportunities
Annual $10,000+ gift designated to PFLC initiatives
Associates membership
Eight reserved seats at commencement
Monthly Wave updates and webinar opportunities
Suggested Areas of Engagement
Help identify and recruit individuals, corporations, and foundations that support the University's mission
Support special projects identified as priorities by the Seaver College dean and the vice president for student affairs


Outreach
Assist in recruiting parent volunteers for regional events
Host and greet students and families in their region through events such as send-off parties, admission receptions, and information sessions
Participate in contacting new parents and answering questions


Spiritual Life
Assist in the annual prayer walk during New Student Orientation
Attend virtual Pepperdine Parents in Prayer monthly gatherings
Commit to praying for the needs of the University


Career Center
Assist with career-coaching programs, PeppConnect, and Handshake
Serve on industry panels
Provide internships


National Co-chairs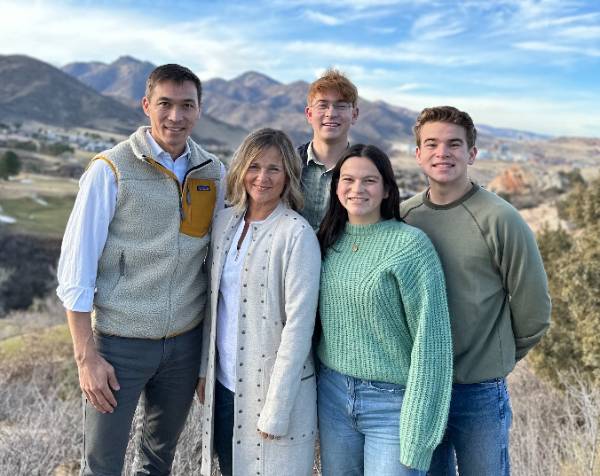 Christian and Jenelle Fong are the National Chairs of the Parent and Family Leadership Council beginning in Fall 2023. Since meeting on their church's worship team, they have been married 25 years and now have three children, Luther, Ty, and Elsa. Luther is currently a Junior at Pepperdine, double majoring in Economics and History. He had a terrific and life-giving spring semester studying with Perpperdine's International Program in Lausanne, Switzerland, and in Summer of 2023 was an intern at the US Department of Commerce. Ty is a sophomore at Vanderbilt University, and Elsa is a Junior at Valor Christian High School in Denver.
The Fongs have supported one another in their careers and life adventures. Jenelle started her career as an elementary music teacher, which was traded for full-time family attention. She has remained active with worship leading, board work, and non-profit consulting. Christian is a long-time leader and entrepreneur in the renewable power industry and is currently the CEO of Spruce Power (NYSE: SPRU), a public company focused on rooftop solar power systems.
Christian and Jenelle recently relocated from the Bay Area (CA) to Denver, where they love exploring the mountains and trails. Their passion is to see the culture of the Kingdom of God emerge in their family life, their community, and the church. They worship at Red Rocks Church in Littleton, CO. Members of the PFLC since 2021, they are excited to work with Pepperdine to help families maintain strong connections and all students thrive in their academic, spiritual, and campus communities. They are passionate about aligning families and Pepperdine to ascend together in faith and mission.