Parent and Family Leadership Council
The Parent and Family Leadership Council at Pepperdine University is a select group of dedicated parents and family members who serve as ambassadors to the Wave family community and provide volunteer and philanthropic support for students at Seaver College. Through meetings and activities, members explore the council's initiatives and share this information with the broader parent committee.


Activities
Parent Council Meetings
The leadership council convenes on campus twice annually, once each semester. The meetings provide members with the opportunity to meet other parents from across the country, give their feedback on current parent issues and activities, and learn about ongoing initiatives at Seaver College from faculty, senior administrators, and the dean. The fall meeting is held on the Friday of Waves Weekend and the spring meeting is held on a Friday in February or early March.


Welcome Calling
Council members contact new families in their regions to welcome them to Pepperdine and offer assistance as a resource as families orient themselves to the University.


Regional Events and Welcome Receptions
Council members may host local events and attend receptions as ambassadors for the University.


Support
Council members support the University annually through Pepperdine Associates memberships in furtherance of four initiatives. The 2021–2022 initiatives are the Entrepreneurship Minor, Career Center, Student Resilience Program (RISE), and the HUB for Spiritual Life. The funding initiatives change from year to year and are decided upon by the Seaver College dean, the vice president of student affairs, and the national co-chairs of the Parent and Family Leadership Council (PFLC).


Annual $1,000+ gift designated to PFLC initiatives
Associates membership
Four reserved seats at commencement
Annual $2,500+ gift designated to PFLC initiatives
Associates membership
Six reserved seats at commencement
Monthly Wave updates and webinar opportunities
Annual $5,000+ gift designated to PFLC initiatives
Associates membership
Invitation to chancellor's reception during student's commencement year
Eight reserved seats at commencement
Monthly Wave updates and webinar opportunities
Suggested Areas of Engagement
Help identify and recruit individuals, corporations, and foundations that support the University's mission
Support special projects identified as priorities by the Seaver College dean and the vice president for student affairs


Outreach
Assist in recruiting parent volunteers for regional events
Host and greet students and families in their region through events such as send-off parties, admission receptions, and information sessions
Participate in contacting new parents and answering questions


Spiritual Life
Assist in the annual prayer walk during New Student Orientation
Attend virtual Pepperdine Parents in Prayer monthly gatherings
Commit to praying for the needs of the University


Career Center
Assist with career-coaching programs, PeppConnect, and Handshake
Serve on industry panels
Provide internships


National Co-chairs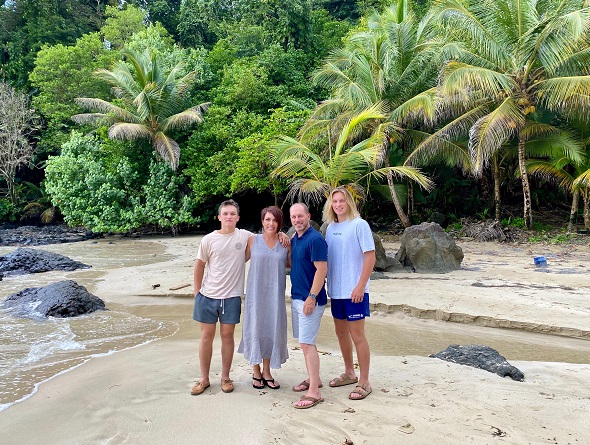 Bob and Lori Reflogal accepted leadership of the Parent and Family Leadership Council for the 2021-2022 year. Bob and Lori have two sons, one of whom is a Wave. Their oldest son, Connor, is a second-year Wave who is studying Business. Connor's brother, Ryan, is a Senior in High School.
Bob and Lori met while serving in the U.S. Air Force and are owners of AFC (American Family Care) Urgent Care centers that serve communities in the Denver area. Both enjoy traveling, hiking, spending time with friends and volunteering in their church and community.
Lori is a veteran military pilot who received her Bachelor's degree from Arizona State University and her Master's degree in Aeronautical Science from Embry Riddle Aeronautical University. After several years of military and civilian flying, she traded her jet engines in for a stroller when Connor was born and has loved being a stay-at-home mom to Connor and Ryan ever since. Lori assists with the design and development of new clinics for their Urgent Care business and also serves on the leadership team for Thrive: Women in the Word at their Church in Arvada.
After career stops in the military, management consulting, and corporate America, Bob now leads the growth efforts of their healthcare business. In addition, Bob is a Board Member for Dare 2 Share Ministries, a Christian ministry focused on mobilizing today's youth to advance the Gospel across the globe. Bob received his Bachelor's in Aerospace Engineering from the University of Texas at Arlington and his MBA from Cornell University.
The Reflogals live in Arvada, Colorado, and look forward to meeting fellow Wave families throughout the year.