Château d'Hauteville Grand Opening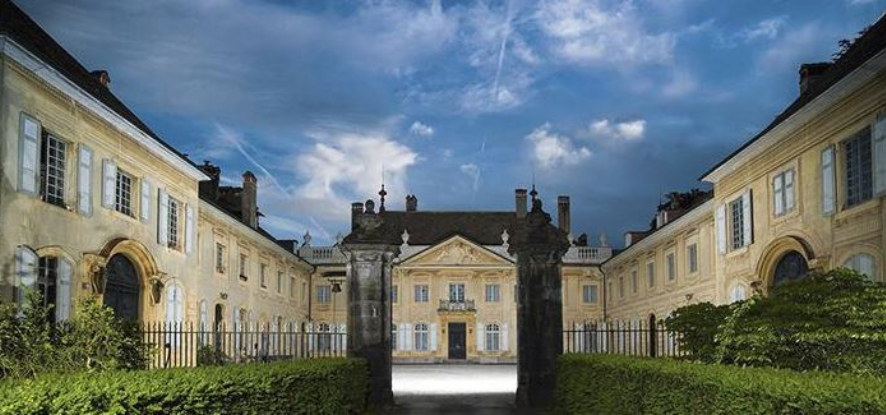 Our University community gathered to celebrate the grand opening of our international campus in Switzerland July 4—5, 2023! After the completion of a comprehensive three-year renovation and restoration project, we are excited to welcome alumni, affiliates, and friends to the spectacular Château d'Hauteville.


---

A magnificent 18th-century estate overlooking Lake Geneva, Château d'Hauteville will house our undergraduate and graduate study-abroad participants and serve as a global center for education, culture, and community — opening its doors to our students for the first time in fall 2023. The château's estate comprises 58,547 square feet of living space and approximately 90 acres (or 36.7 hectares). Of those 90 acres, 67 acres is the approximate size of the farmland on the estate; there have been significant discussions about the farmland over the years due to the regulatory scheme that applies to this land, as well as our partnership with our farmers.

Built in 1760, the château was owned by the Grand d'Hauteville family for more than two centuries until Pepperdine acquired it in 2019. The main house—an architectural masterpiece—features a striking hand-painted façade, a variety of rooms, halls, salons, grand cobblestone courtyard, and French-style gardens. Vineyards, orchards, forests, and dramatic tree-lined pathways surround the estate. The property also includes a two-story orangerie (previously used to care for the estate's citrus trees during the winter months), a barn, greenhouse, and an impressive residential gatehouse. The history of this estate, and the family who occupied it, will provide our students and educators with countless examples of the artistic, philosophical, religious, and political forces that shaped most of the modern world.


Travel Tips
Transportation Information
Uber App can be used in Vevey
Chaplin's Taxi (standard) +41 79 219 76 76
Taxi Lemania +41 21 963 63 63
SBB Mobile train app Convenient train stop directly across from Château d'Hauteville

Recommended Airports
Zurich (ZRH) Most direct non-stop flights from the U.S. The drive to Vevey is approximately 2.5 to 3 hours.
Geneva (GVA) Approximately 1.5 hours drive to Vevey

Hotel Reservations
Below is information on recommended hotels in the Vevey area.

Astra Hotel
Four-star hotel with easy access to a nearby train station.
To make your reservation, visit the hotel's website and use promotion code "MALIBU" to receive the discounted rate.

Modern Times Hotel
Four-star hotel near Chaplin's World Museum.
To make your reservation, visit the hotel's website and use promotion code "Pepperdine" to receive the discounted rate. Room rates include breakfast and parking; taxes not included.
Email contact: reservation@moderntimeshotel.ch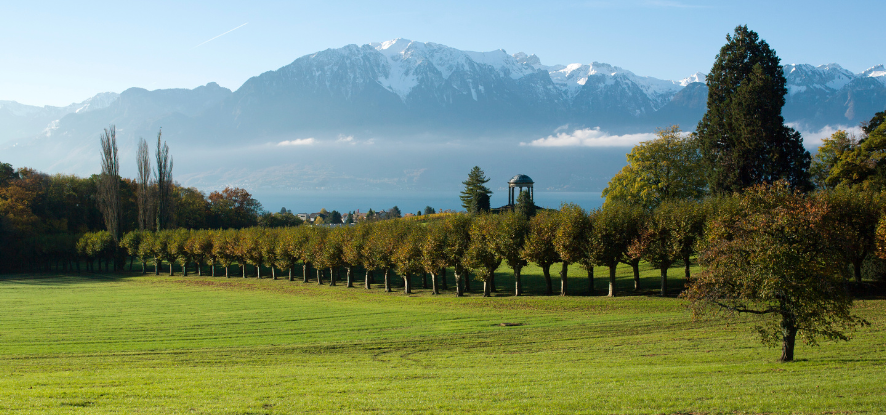 Activities in and Around Vevey
Vevey is a beautiful resort town with historic sites and iconic landmarks, surrounded by enchanting villages and postcard-perfect Swiss countryside. Below are some optional activities to consider during your visit.

Château de Chillon (Montreux) | 2-hour tour
Along the shores of Lake Geneva lies one of the most historic châteaus in all of Switzerland: the Château de Chillon, a one-time strategic point connecting the states of Vaud and Valais that inspired a poem written by Lord Byron. Visitors can tour this extraordinary castle and see Byron's name inscribed on one of the dungeon pillars.

Montreux Jazz Festival
The iconic Montreux Jazz Festival held on the shores of Lake Geneva each year never fails to impress. Founded by music executive Claude Nobs, this two-week event is one of the most prestigious in Europe with stages graced by all of music's greats, from Miles Davis and Ray Charles to David Bowie and Prince. This year's festival is taking place from June 30 to July 15.

Lavaux Vineyards | 3-hour tour | Wine tasting available
This vineyard dating back to the 12th century has been registered by UNESCO as a world heritage site and is rich with both fertile soil and history. Group tours provide visitors with information about the vineyard's origins, the process of wine production, and Switzerland's wine industry and distribution.

Gruyères Cheese Factory
Tour the "fromagerie" and watch wheels of the regional Gruyère cheese come into being right before your eyes. Guests can take in the picturesque green pastures, cattle herds, and alpine chalets as they explore the grounds, then dine in the facility's restaurant or swing by the gift shop for fresh dairy products and sweets.

Cailler Chocolate Factory | Broc
Visit the factory that is home to Switzerland's oldest brand of chocolate—and of course, partake of some sweet morsels along the way. For an additional level of experience, book a workshop in which you and your fellow travelers can learn to make an original ganache, truffle, or praline.

Chaplin's World | Museum (Vevey)
Visit the home where silent film star Charlie Chaplin resided with his family for many years and explore immersive exhibits that celebrate Chaplin's time on screen and recreate some of his most well-known sets. Explore the expansive, attractive grounds and stop for a bite in the museum's restaurant.

The Olympic Museum | Lausanne
Discover history, artifacts, and stories tied to one of the world's most beloved and unified sporting organizations within this 32,000+ square foot treasure trove of Olympic history. See the museum's expansive display of athlete uniforms, torches, and flags dating back to the early 20th century, while learning about the Games' origins and reliving some of its most memorable moments.

Queen Studio Experience | Montreux
Take a tour to learn about Freddie Mercury's connections with the city of Montreux. Led by a guide informed by Mercury's longtime personal assistant, visitors will visit locations where some of the Queen's famous albums were recorded. Self-guided tours of memorabilia including handwritten lyrics, guitars, and stage outfits are also an option for guests.

Boat ride around Lake Geneva
Enjoy a floating tour of Lake Geneva on the renovated paddle steamboat "Belle Époque," partaking of fondue, a midday meal, or a happy hour toast while you glide past breathtaking vineyards and the Alps. For a more intimate option, book a private boat for your experience of life on the open water.

International Museum of the Reformation | Geneva
View historic works of art and biblical and church artifacts that document the movement that birthed Protestantism five centuries ago. On display in the museum's collection are portraits of Martin Luther and John Calvin, scriptures, and other writings dating as far back as the 16th century. (Please note: the museum is currently closed, but will reopen in April 2023.)
Recommended Restaurants in the Area
Le Carré
Traditional French brasserie food such as gourmet burgers, tartare, mussels, and fish

Bla Bla Vevey
Italian cuisine with amazing pizza, gourmet pasta, and fish dishes

Comelon Burrito Bar
Mexican food, offering build-your-own burritos or burrito bowls

Le Mazot
Typical Swiss brasserie cuisine famous for their meats with "Mazot" sauce. Also offers spaghetti, perch fillets, and cheeses.

Swagat Restaurant
Indian cuisine offering traditional dishes

Trois Sifflets
Swiss cuisine with selections of fondue and meats

La Trattoria de Vevey-Corseaux Plage
Italian and French cuisine, offering meats, pasta, pizzas, and seafood

KJU
Selection of gourmet tartares, unique pasta, and fish

La Coupole 1912
French brasserie offerings and traditional Swiss cuisine including Roesti, meats, and fish dishes. Located within the Astra Hotel.

Les Ateliers
Fresh cuisine offering roasted meats, seasonal salads, and fish of the day

Ze Fork
Daily offerings of ceviche, beef kebab, arancini with mushrooms, and cordon bleu
For more information, please contact Vice Chancellor Karin Shaw at karin.shaw@pepperdine.edu or 310.506.6587.