Video Scoreboards
Enrich student and campus life experiences with modernized video scoreboards.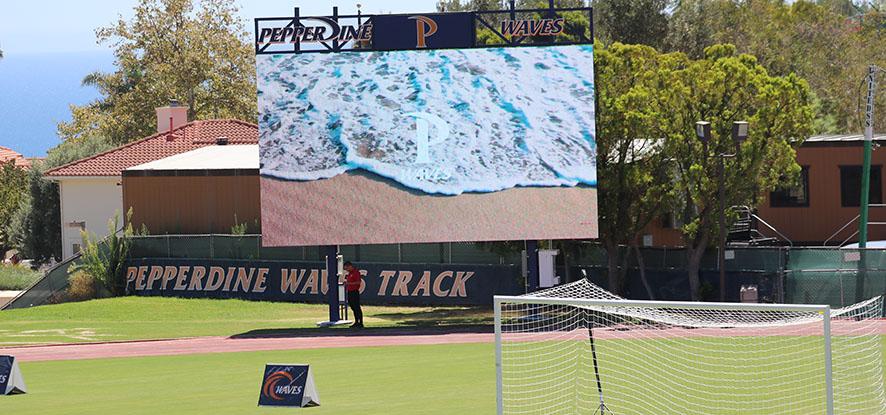 Pepperdine Athletics has partnered with Daktronics, an industry leader in designing and manufacturing electronic scoreboards and large-screen video displays, to create two stunning videoboards for our Malibu campus venues that will build excitement for Waves athletic events.
Scoreboard Renderings
One videoboard has already been installed at Tari Frahm Rokus Field. The new board, which measures 28' 8" feet high by 27' 8" feet wide, features a 15HD pixel layout that brings crystal clear imagery to videos, animations, and other graphics. The sound system is integrated with full-range audio reproduction for high-quality announcements. A major upgrade for our soccer facilities, the new videoboard is already energizing both Waves student-athletes and fan experiences. Before baseball season starts in the spring, a second videoboard will be installed at Eddy D. Field Stadium.
This $500,000 initiative is vital to game-day experiences for athletes and fans alike, as these new videoboards will dramatically boost fan participation while ensuring a lively atmosphere for home games and instilling a deeper sense of pride in our Waves athletes, students, and alumni.
Investing in Community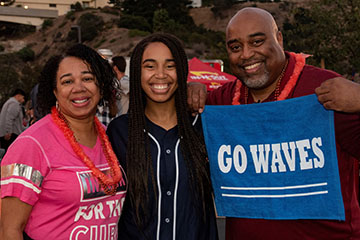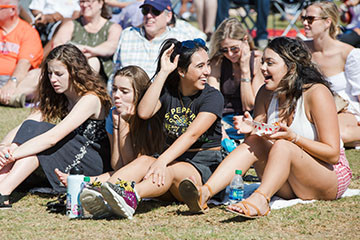 While the scoreboard enhancements will help us keep pace with our competitors and demonstrate our commitment to our dedicated student-athletes, this initiative will also create exciting campus life opportunities for the broader Pepperdine community.
From enjoying movies with classmates, friends, and colleagues on our spectacular home-field lawns, to cheering on our teams while they compete at away games, these video scoreboards will elevate Waves athletics and strengthen our campus community as we join together in fellowship and take full advantage of our beautiful campus and setting.
The new screens could also enable these athletics facilities to serve as overflow seating for graduation ceremonies, University-wide events, and livestream opportunities for the celebration of national anniversaries or news events from around the globe.
A Pepperdine education provides countless opportunities for academic and career success, but more importantly it offers each athlete, scholar, artist, and budding entrepreneur a chance to develop a strong moral compass and learn the value of service firsthand.
All of us at the University take great pride in sending purpose-driven alumni into the world each year to inspire waves of change in the workplace, throughout the community, and around the world.