Student Success
The OIE analyzes data specifically related to student progress, retention, and graduation. Examining student success data helps to ensure Pepperdine students are provided with every opportunity for attainment.
---
How do Waves Define Student Success?
| School | Student's quote |
| --- | --- |
| Seaver College | "A student is following their goals and has become successful in their area of career but also friendship and faith." |
| PGBS | "Having a fulfilling career while playing a meaningful role in the society." |
| GSEP | "Student success does not speak to me just academically, but being able to achieve goals emotionally, physically, and mentally with other students as well." |
| CSOL | "The end result of learning and growing at a university and being able to provide the knowledge you gained there into your career." |
| SPP | "Student success, the ability to thrive both academically and professionally both within and outside of school." |
Source: OIE Student Success Survey, 2021.
---
Retention and Completion
Retention and completion (graduation) rates are common metrics of student success in higher education. The OIE Student Success Dashboard provides an overview of Pepperdine student success rates in comparison to Pepperdine's peer schools.
---
Did You Know?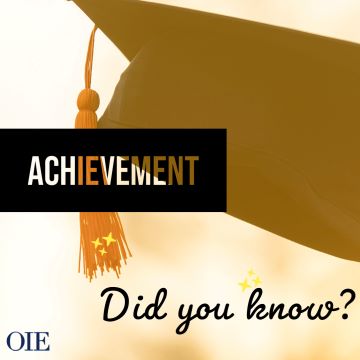 Did you know (DYK) that Pepperdine students describe student success predominantly as an academic achievement or developing new knowledge/skills? Read more in the OIE Waves' Words Report below under the OIE Survey and Research Reports toggle and visit the OIE's Knowledge Sharing page for more DYK databytes on the Pepperdine community!
---