Program Review
A program review is a systematic process that occurs every five-to-seven years in order to evaluate and improve academic programs. The comprehensive analysis, which the review process provides, and the resulting Memorandum of Understanding (MOU) are used to elicit curriculum and programmatic changes and to inform planning and budgeting processes at various levels. Program Review is a required element in the WASC Senior Colleges and Universities accreditation and has been a part of Pepperdine's assessment cycle since 2003. It is also a purposeful opportunity to link decision‑making, planning, and budgeting with evidence. OIE supports program reviews and serves as the repository for five-to-seven year reviews. Program reviews should be the foundational source for substantive program changes. Read more in OIE's Program Review Guidebook.
More information is detailed in the following Program Review Materials:
Schedules and Archive
---
Cycle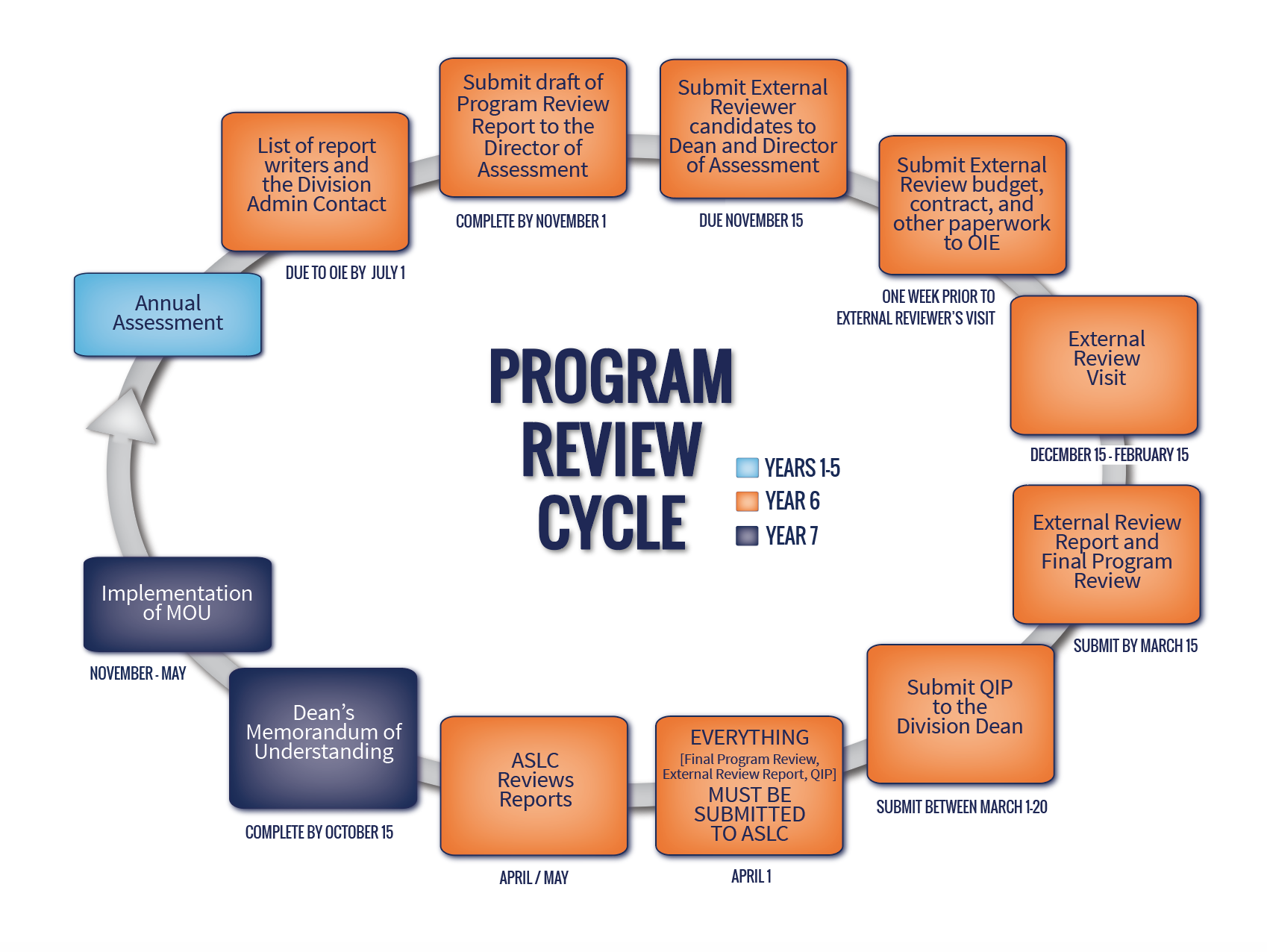 Step One: Draft of Program Review
The first component of the seven‑year program review is referred to as a self‑study and is conducted by the faculty and/or staff who are directly involved with the program. This process is data driven with the annual assessments serving as the foundation for the program review, as well as retention and enrollment data, and educational effectiveness indicators (EEIs).
Step Two: External Review
Each program must undergo an external review by distinguished colleagues outside the University who are familiar with the field, discipline, or profession undergoing a program review.
Step Three: Revise Program Review (Optional)
Revisions can be made to the program review at this time based on feedback from the external review team.
Step Four: Internal Review
The internal review process is conducted by the ASLC, a panel of University colleagues, who review and offer feedback on the assessment of learning outcomes. ASLC provides recommendations for program improvement that surface from the program's self‑study and the input of the external review team.
Step Five: Submission of the Program Review
The program review, Including the external reviewer team's report and the Quality Improvement Plan, goes both to the Dean and ASLC.
Step Six: Memorandum of Understanding
The Dean and program faculty negotiate a MOU that delineates the agreed up recommendations, plan of action, and timeline for meeting the program needs. The Dean is the primary source for monitoring the agreement. ASLC may request a progress report, prior to the next program review, on the assessment of student learning.
Step Seven: Monitor Progress
The University Planning Committee (UPC) and the President's Cabinet set priorities for planning and budgeting with the Deans. When the program review results in budgetary requests that cannot be funded at the school level, a proposal will then go to UPC for their consideration. If curricular changes are the result of the program review, they must be approved at the school level and then by the University Academic Committee (UAC).