Institutional Learning Outcomes
Mission Statement
Pepperdine University is a Christian university committed to the highest standards of academic excellence and Christian values, where students are strengthened for lives of purpose, service, and leadership.
Each commitment is evaluated and implemented through the lens of the institutional values. All components are represented in both the learning environment and the student learning outcomes.
For a copy of the brochure, please download here.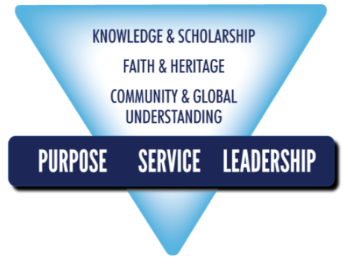 The Institutional Learning Outcomes (ILOs) are formed by two components:
1. Core Commitments: Knowledge & Scholarship, Faith & Heritage, and Community & Global Understanding
2. Institutional Values: Purpose, Service, and Leadership