Building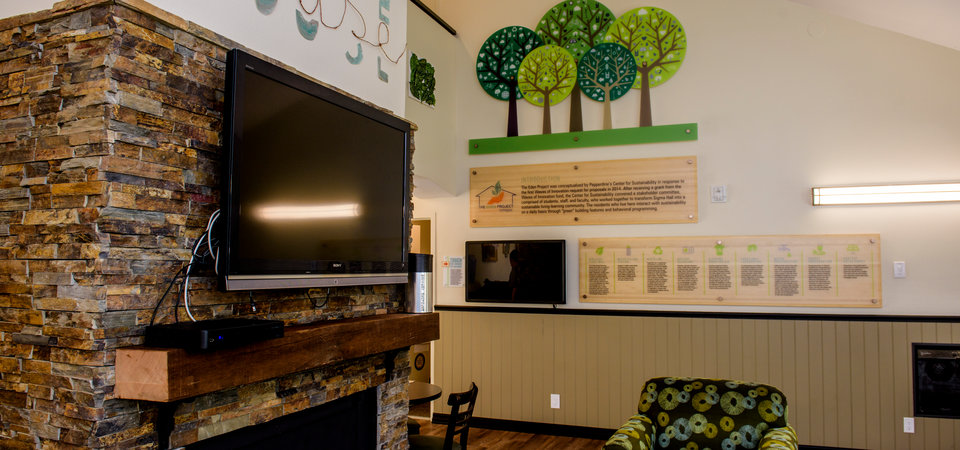 History
Since the 1980s, Pepperdine has actively sought, evaluated, and incorporated sustainable elements into campus enhancement projects while designing buildings according to, among other things, the criteria of "lifecycle" cost and energy efficiency. In addition to the sustainable elements incorporated into University facilities described below, energy performance standards go beyond code for all buildings.
The Eden Project
This innovative project is Pepperdine's most extensive foray into sustainable building to date. Sigma Hall, a sophomore residence, was renovated Summer 2015 to create a "sustainable living-learning environment." Renovations include rooftop photovoltaic solar array, energy-efficient LED lighting, vacancy sensors, low-flow fixtures, recycled content materials, and many other enhancements.
New and Remodeled Building Elements
Both new construction and remodel projects are assessed for ways to incorporate sustainability into the facility. Not every measure is included in every building, but where feasible and complementary to the facility's purpose, such measures are incorporated. These include:
Installation of high-efficiency fluorescent and LED lighting
Following topographic slopes to reduce grading
Providing more efficient climate control systems
Tinting windows with solar reflective film
Installing water efficient low flow toilets and showers
Using optimal solar orientation and energy efficient glass
HVAC and light motion sensors and timers
Low VOC paints
LEED Accredited Staff
The founding director of Pepperdine's Center for Sustainability, Rhiannon Bailard, holds a LEED accreditation from the United States Green Building Council, which allows her to counsel the University on sustainable building practices. Emily Mead, Sustainability Coordinator, also holds LEED accreditation. LEED accreditation, knowledge of sustainable building, and the ability to feasibly incorporate such measures is a consideration in the hiring process of architects for upcoming campus enhancement projects.