In the News
January 25, 2018 - Pepperdine Center for Sustainability Adds Car-Charging Ports
February 14, 2017 - As an iconic centerpiece of the Malibu campus, Pepperdine has returned the Joslyn Plaza fountain to service with the addition of new water conservation features. Pepperdine recognizes the ongoing severity of the historic drought in Southern California and remains committed to water conservation and the responsible use of its water features.
September 1, 2016 - "Pepperdine Switches from Single Stream Recycling" Pepperdine made this switch after the university began using Waste Management as their waste hauler on Aug. 15.
November 5, 2015 - "The Eden Effect" A cross-disciplinary initiative brings together the University in a lifestyle shift.
December 4, 2014 - "Celebrating Pepperdine University's First Electric Vehicle Charging Stations" recounts the ribbon-cutting ceremony of Pepperdine's first EV charging stations.
November 8, 2014 - "'Wild Fest': Smart Fisheries in an Aloha Style" highlights the Wild and Scenic Film Festival, an exciting nature and conservation event hosted at Pepperdine with partnership from the Resource Conservation District of Santa Monica.
July 28, 2014 - "Pepperdine Installs Eco-Friendly Projects" summarizes various sustainability projects currently underway at the university, including the installation of new lighting fixtures to eliminate sky glow, a new poison-free rodent management system, and three recently-installed electric vehicle charging stations.
September 27, 2011 - "GreenTeam's Garden Breaks New Ground," highlights the new organic garden, which is available to all students, faculty, and staff to grow their own organic produce.
June 1, 2010 - "Pepperdine MBA Program Introduces Certificate in Socially, Environmentally and Ethically Responsible Business Practice" highlights the new program at the Graziadio Business School.
September 21, 2009 - A group of 12 Pepperdine students joined some 14,038 community members to take part in the 25th annual California Coastal Cleanup Day. A total of 69 sites throughout Los Angeles county removed a record-setting 300,413 pounds of debris and recyclables.
September 17, 2009 - "Green Team Goes Conservative in the Cafe," an article in the Graphic, highlights a student initiative to reduce food waste, water waste, and energy consumption. Research has shown that by removing trays from cafeterias students produce less waste. The Seaver Green Team is testing out this initiative to see if Pepperdine can move to reduce the waste produced in the cafeteria.
August 2009 - The Christian Chronicle highlighted college sustainability programs in the article "Christian colleges 'go green' with buildings, programs." The article discusses Pepperdine's launch of the Center for Sustainability, as well as the creation of the Seaver Green Team.
August 14, 2009 - Rhiannon Bailard, Director of the Center for Sustainability, was interviewed by Charter Communications' CNN Headline News Local Edition to discuss Pepperdine's sustainability initiatives.
May 6, 2009 - The Malibu Times highlighted the dedication of the Little Las Flores property in a news brief entitled, "Pepperdine dedicates 73 acres open space." The property was dedicated for conservation and preservation in collaboration with government agencies. Pepperdine also sent out a press release notifying the community about the dedication of the property.
May 6, 2009 - "Symposium tackles Malibu's water quality issues," a Malibu Times article, discussed the Malibu Water Quality Symposium held at Pepperdine University. Facilitated by City Councilmember John Sibert, discussion topics included the latest in septic system regulations and water quality technology in Southern California, while featuring several scientific experts who explained how the latest regulations and technologies would affect Malibu.
February 5, 2009 - "Blue and Orange turns Green," an article in the Graphic, highlights the formation of the Green Team. This new group on campus hopes to green the residence halls, create a newsletter that updates students on easy ways to a greener lifestyle, encourage students and faculty to use paper more sparingly and work towards healthier, organic food options in the cafeteria and residence hall vending machines.
January 29, 2009 - In the article "Drivers welcome Hertz," the Graphic highlights a new program that helps encourage students to leave their cars at home, by making rental cars available. Students have the flexibility of renting four fuel efficient vehicles for an hour, day, or week.
November 20, 2008 - Jessica Hammons, environmental steward for the Office of Intercultural Affairs (ICA), was recognized for educating the Pepperdine community about global environmental issues and how the University is playing its part to protect the planet.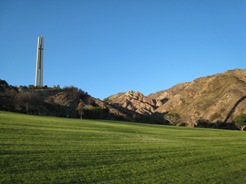 February 29, 2008 - Pepperdine GSBM hosted the Magill Symposium, which brought together Pepperdine MBA students, faculty and leaders from the business community for a day of sharing insights and ideas regarding contemporary business practice.
November 15, 2007 - "Professor Studies Pep's Eco Impact," a Graphic article highlights Dr. Christopher Doran in his efforts to promote environmental issues on campus.
November 8, 2007 - "Trash Worth Keeping: Campus Teams with Recycling Company," an article in the Graphic, discusses the recycling practices at Pepperdine.
September 27, 2007 - "New Toilets Flush to Save Campus Water," a Graphic article, highlights the Facilities Management and Planning efforts to reduce water consumption. Specifically, the article discusses the implementation of "duel flush" toilets onto campus.
May 31, 2007 - KCAL News ran a story on Pepperdine called "In the Garden," which recognized the native vegetation project on the Graduate campus slopes.
May 20, 2007 - The Los Angeles Times recognized the native vegetation project in an article titled "A new lay of the land at Pepperdine." The article discusses the intricacies of collecting the seeds for the project and replanting the slopes, while highlighting the benefits of utilizing native plants.
February 10, 2007 - Members of Malibu Rotary Club and their families, along with members of Pepperdine Rotary Club, joined with over a dozen local Rotary Clubs in cleaning beaches from Malibu to San Pedro.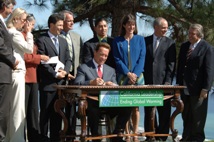 September 27, 2006 - The University hosted Governor Schwarzenegger as he signed the California Global Warming Solutions Act (i.e., AB32) at Pepperdine. Proponents cite this bipartisan bill, which seeks to reduce greenhouse gas emissions to 1990 levels by 2020, as leading an international effort to reduce carbon emissions. Hosting this event at our magnificent Malibu campus raised awareness of this important bill.