Native Vegetation
Malibu
Our Malibu campus is located along the scenic Pacific Coast Highway at the foot of the Santa Monica Mountains, and contains a unique and diverse environment. In order to minimize our impact on that environment, Pepperdine has made a commitment to maintaining vegetation native to California's Mediterranean climate. This eliminates the need for fertilizer, irrigation, and pesticides, while reducing air pollution, minimizing erosion, and improving water quality. Native vegetation has a superior carbon balance relative to exotic or non-native species, as it has no dormant season and removes atmospheric carbon year-round. Moreover, native vegetation is considered a valuable public resource due to its significant ecological value.
Drescher Graduate Campus Native Vegetation
The 50-acre Drescher Graduate Campus, completed in 2003, contained at least 50% native vegetation for landscaping. Soil and seeds collected on-site before the project began were used to replant the slopes. In an effort to blend the Graduate Campus with the surrounding environment, the surrounding slopes contain approximately 99% native vegetation with only a handful of non-native plants. KCAL news highlighted this development in a newscast entitled "In the Garden."
Open Space
As part of Pepperdine's effort to maintain our environment, 500 acres out of the 830 that make up the Malibu Campus have been set aside for conservation. This provides a pristine natural environment complete with native vegetation and wildlife at no cost to the state.
Landscape Management
All on-campus tree trimmings and most brush clearance debris is "chipped" and used to create pathways and for weed suppression. Non-native landscaping is irrigated with reclaimed water, thereby reducing the amount of potable water used on campus. The University is in the process of transitioning to an organic, chemical-free landscaping program that will revitalize our soils and increase the resiliency of our campus grounds.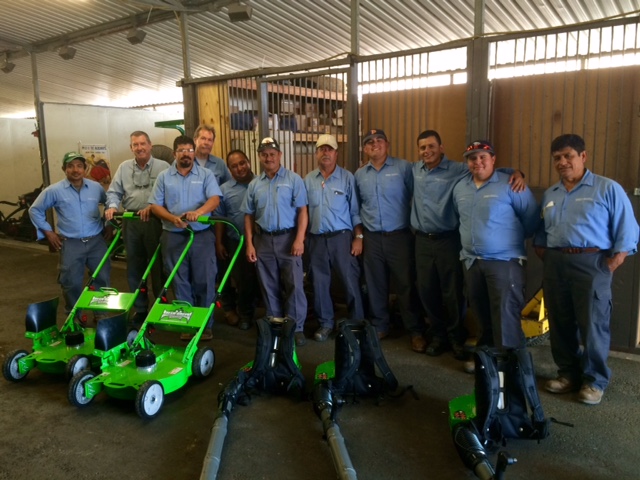 At Pepperdine we strive to achieve a clean, quiet and healthy campus environment. That's why we prioritize electric landscaping equipment over gas. Soon we will begin piloting emission-free zones with our new electric landscape equipment from Mean Green!
Sustainable Pest Management
The use of anti-coagulant rodenticides, commonly known as rat poison, has recently gained attention for its link to the death of native predatory animals. In particular, anti-coagulant rodenticides are known to bio-accumulate in larger animals that have consumed rodents that have ingested rodenticides. In May 2014, Pepperdine phased out the use of rodenticides in favor of a poison-free pest management system. Raptor perches were installed throughout campus to encourage natural predation by birds of prey in the local Santa Monica Mountains including owls and hawks.