Pepperdine's Campus Wide Recycling Program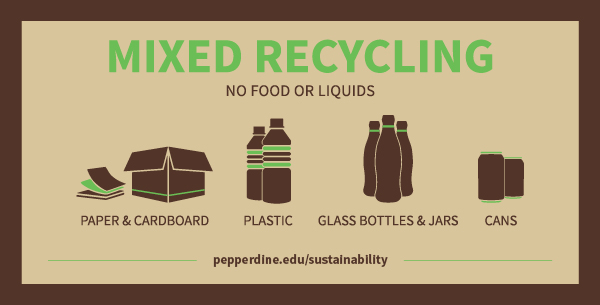 Recycling Program
In August 2016 Pepperdine transitioned to a new waste and recycling system on the Malibu campus. The new program requires each member of our community to separate recyclable items from materials headed for the landfill.
What Is Recyclable?
Paper, cardboard, glass, plastic, and metals are recyclable, but not all materials are created equal. With paper and cardboard, clean items are generally recyclable, while soiled items (e.g., a used cardboard food container) are trash. Additionally, flimsy paper products such as tissues, napkins, and paper towels are not recyclable. Our recycling vendor accepts plastics 1 through 7 as labeled on the bottom of the item, but an easy rule of thumb is that if the plastic item holds its shape when squeezed (e.g., plastic water bottle), it is recyclable. The item is trash if it does not hold its shape (e.g., plastic wrap, chip bags, and candy wrappers).
Offices and Shared Spaces
Because the vast majority of what is disposed of in an office environment is recyclable, we transitioned personal trash cans into mixed recycling cans in all office locations. We ask that employees dispose of non-recyclables, food waste, and liquids into their break rooms or kitchenettes. Please dispose of trash and food waste in the trash can and pour liquids down the drain. All classrooms, residence halls, and conference rooms also have recycling cans and as well as trash cans.
Exterior Trash Cans
The Center for Sustainability is pleased to announce that mixed recycling is now available everywhere on the Malibu campus. This change will increase the convenience of recycling on campus and improve Pepperdine's overall recycling rate.
When in Doubt, Throw It Out
We realize it will take time for every community member to learn the specific details of this new program. If you are unsure of where to dispose of an item, throw it away. Every recycling program has some level of contamination built into it, especially in its beginning phases. Our job is to educate you, and we will work with you in the coming months to ensure that you know what goes where. For your convenience, you may download and print the useful graphics found below.
Green Waste Recycling
All on-campus tree trimmings and most brush clearance debris are "chipped" and reused to create pathways and for weed suppression. Any unused brush clearance debris is composted and replaces fertilizer in many areas on campus.
Construction Recycling
Construction waste is highly recyclable, and Pepperdine works to maximize our diversion of these materials. During new building projects, Pepperdine's average diversion rate for construction waste is 80 percent. Since a large portion of construction waste can be recycled, Pepperdine ensures that it maintains a high diversion rate.
Proper Waste Disposal
The University properly disposes of motor oils and other universal wastes to prevent any adverse environmental impact. The creation of a Freon "recycling" system allows Pepperdine to recapture and reuse Freon, reducing consumption and improving air quality. Batteries and e-waste must be disposed of properly, or they will leach toxic chemicals into groundwater. As such, Pepperdine provides containers throughout campus for collection of used batteries. E-waste can be disposed of through the Department of Facilities Services.
Contact Us
We encourage all faculty, staff, and students to contact us with any questions or comments. We greatly appreciate your support and participation in our recycling program. Please email us at sustainability@pepperdine.edu with any questions or comments.