The Eden Project
In the summer of 2015, a sophomore residence hall was completely renovated into a sustainable living-learning community - the Eden Project. Residents of the hall interact with innovative building features and specialized programming to engage in sustainability as a lifestyle. The project prepares students for lives of purpose, service, and leadership as they engage with the Christian calling to care for the earth.
History
The Center for Sustainability received the largest grant from the 2014 Waves of Innovation committee of $150,000 to carry out The Eden Project, the implementation of a green dorm. The project, which was designed by a multidisciplinary stakeholder committee of faculty, staff, and student representatives, aims to transition Sigma Hall into a sustainable or "green" residence hall with sustainable building retrofits and a comprehensive educational campaign wherein students learn by example and through peer-to-peer modeling. Students, in collaboration with faculty and staff, have ownership and accountability over their learning outcomes. The initiative is designed to educate students about sustainable living, reduce consumption, save money, test sustainable building solutions, and increase the internal and external visibility of the University's sustainability program. Ultimately, the Eden Project is a first step towards transitioning the role of sustainability at Pepperdine from merely something that we do into a part of who we are as an institution.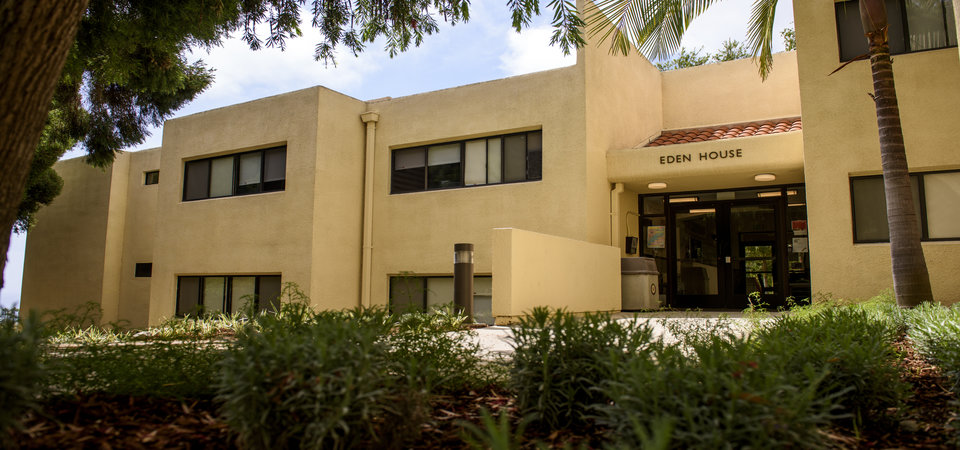 Sustainable Building Upgrades
The uniqueness of The Eden Project starts with the innovative building renovations. In addition to several aesthetic upgrades, the hall was retrofitted with sustainable building features. As a test project, the University can analyze the success of the changes and incorporate them into new buildings. The retrofits include:

• Rooftop photovoltaic solar array
• Lucid Dashboard and energy and water submetering
• Biofilter vertical planter
• Organic vegetable garden
• Composter and rain barrel
• Recycled content laminate flooring
• FSC-certified furniture
• Interface recycled carpeting
• Low-flow bathroom fixtures
• LED lighting
• 100% green cleaning program
Behavioral Campaign
The project also features a behavioral program, through which students can interact with sustainable lifestyle choices. The residence staff, including Residence Advisors, Eco-Reps, and a Spiritual Life Advisor, are trained in sustainable living and programming. The program includes field trips to waste and water treatment plants, service with local organizations, and workshops focusing on sustainable living. The house will also host a water- and energy-saving competition between other halls with the hope of reducing resource use. Signage around the house encourages residents to make conscious decisions about turning off lights and shortening showers. Each semester, The Center for Sustainability will survey students for feedback and measuring any increase in sustainability literacy.