Energy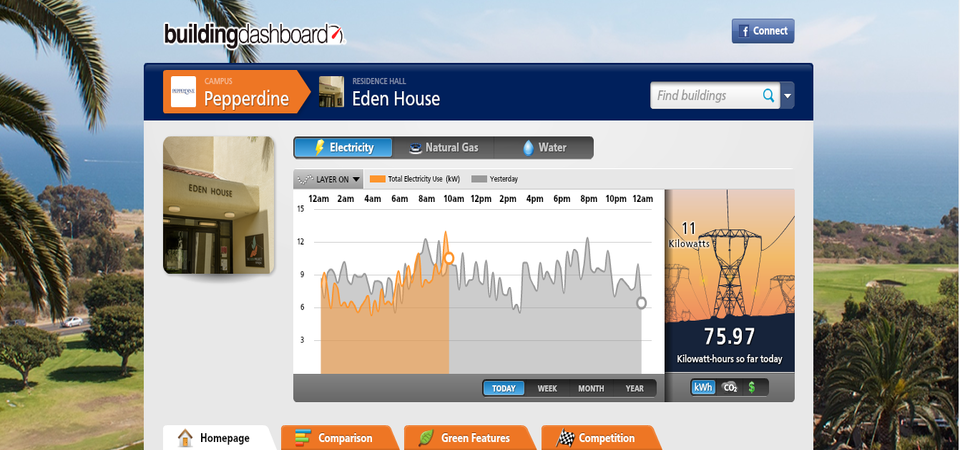 Energy Usage
It is predicted that global energy demand may double by the year 2050. Energy consumption has far-reaching effects on the environment and on our health. Consequently, Pepperdine continues to maximize energy efficiency. Dating back to 1986, Pepperdine has regularly evaluated the Malibu campus for ways to reduce overall energy consumption. The resulting policy and operational changes have conserved energy throughout the campus. This represents one of the more challenging aspects of sustainability as energy consumption connects in some way with all of our sustainability practices and campus operations from transportation, to our current construction projects, to our food and water consumption.
Energy Management System
Pepperdine uses an energy-management system (EMS) to control most of the HVAC equipment, some lighting on campus, and to monitor our waste water flow station. Pepperdine can monitor and make adjustments to equipment by any computer on or off campus. The EMS gives Pepperdine the ability to monitor and make changes quickly and keep our students, faculty, and staff in as much comfort as possible while minimizing the amount of energy used. The EMS also provides troubleshooting capabilities so that most problems can be analyzed and corrected quickly.
Alternative Energy
As members of the Clean Power Alliance, an initiative sponsored by the University's energy provider, Southern California Edison, the University sources 50 percent of all electricity used on campus comes from clean renewable resources, including wind, solar, geothermal and hydroelectric. The University's endowment is also invested in renewable energy funds. In 2015 Pepperdine installed the first on-campus photovoltaic solar array on the Eden Project rooftop.
Lighting
Lighting within an environment has profound effects on health, safety, morale, comfort, and productivity. It is imperative that we provide good light quantity and quality while also conserving energy. A campus wide lighting audit in 2002 resulted in of the following changes, which are representative of the types of measures implemented around campus:
Replacement of most incandescent bulbs with fluorescents
Installation of electronic timers to turn off lights when buildings are not in use
Installation of motion sensors to light rarely used areas
Use of light emitting diode (LED) lights, which are highly efficient and last, on average, for 50,000 hours.
The 2002 lighting audit alone resulted in the annual conservation of more than 325,000 kilowatt hours. The savings would power about 37 houses for an entire year.
Outdoor LED Fixtures
As part of the campus life project, all the outdoor globe lighting will be replaced with high-efficiency LED lighting over the next few years. The LED lighting uses half the energy of fluorescent and lasts six times longer. The downward-facing LED lights will also significantly reduce Pepperdine's sky glow, thereby diminishing our contribution to light pollution.