Graduate Campuses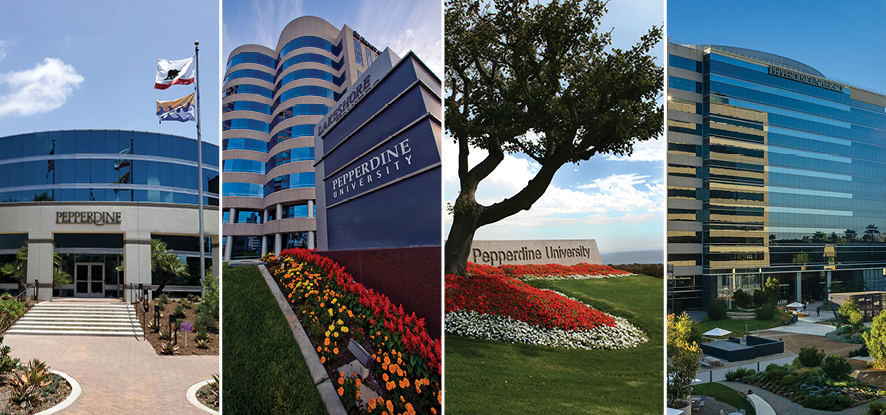 Pepperdine University remains committed to engaging in practical, purposeful, and ethical use of our resources at each of our campuses. While there are limitations in the number of sustainability measures that we can incorporate at our leased facilities, we seek to maximize their potential into free-standing sustainability programs.
West Los Angeles
Free periodic E-waste recycling
Recycle bins are placed in all office spaces, copy rooms, and in the library. These are subsequently retrieved by the janitorial staff and placed in recycling receptacles provided by the landlord. Any plastics, bottles, and cans that are not properly placed in the recycle bins are removed and sorted from regular trash by the janitorial crew prior to emptying.
Two bins are strategically placed in the staff lounge and in the Dean's kitchen specifically for plastics and cans. A staff member has volunteered to remove and recycle those bins on a regular basis.
Paper recycling bins are located throughout the campus and the paper is subsequently retrieved and recycled by janitorial staff.
All classrooms have motion sensors which shut off the lights after a period of inactivity in order to save energy.
The HVAC is only on during normal working hours and shuts down on nights and weekends when the facilities are not in use. The offices and non-student facilities are also shut down.
There are double incentives for those who participate in the rideshare and carshare programs.
Energy efficient lights have been installed.


Irvine
The Irvine campus has a recycling bin located in the second floor student lounge as well as in the third floor vending machine room.
The janitorial crews empty the recycle bins on a weekly basis and the building has recycling dumpsters set up with Waste Management.