Sustainability Policy
PEPPERDINE UNIVERSITY'S SUSTAINABILITY POLICY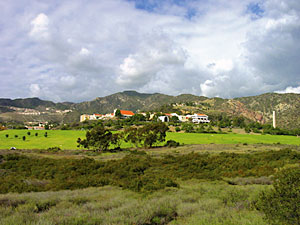 Pepperdine University is committed to managing our resources in an ethical, practical, and purposeful manner that is consistent with our mission. We retain a steadfast and faithful focus on sustainability through communication of successes and challenges, implementation of practices, and education of those we are charged with serving. There is no greater role we can play in the sustainability field than to capture the hearts and minds of our students to strengthen them for lives of purpose, service, and leadership.
CONTEXT AND HISTORY

Long before "green" became part of our common vernacular, Pepperdine University recognized our obligation to manage, conserve, and sustain natural resources. This duty arises out of our belief that we are called to respect and care for the awesome gifts that God has bestowed upon us. A handful of examples of our commitment follow.
Given our California location, water conservation is one of the most important sustainable practices we undertake. Pepperdine began utilizing reclaimed water for campus irrigation in 1972. The most sophisticated Hydrogeological Monitoring Program of any institution on the West Coast was implemented in 1987, thereby enabling us to carefully monitor and reduce the irrigation water used on our 830 acre campus.
Pepperdine University seeks to improve air quality and reduce reliance on fossil fuels. Examples include our "rideshare" program, which incentivizes the use of carpools, vanpools, and mass transit; our fleet of electric and hybrid vehicles; shuttle services; and on-campus housing for 52% of students and 119 faculty and staff residences.
Pepperdine's campus enhancement projects incorporate sustainable elements while retaining high caliber operations. Examples of such measures include optimal solar orientation; energy efficient glass, lighting, and climate control systems; low flow toilets and showers; native vegetation; use of recycled and low VOC building materials; natural gas heating systems; chiller water cooling; and a campus energy management system.
Pepperdine provides sustainable curriculum at every level of each of our schools. Courses range from International Environmental Law at the School of Law to Environmental and Natural Resource Economics at the School of Public Policy. Students and faculty participate in associations devoted to environmental consciousness from the Graziadio School's Net Impact to Seaver College's Surfrider Foundation. Faculty members actively conduct research in the sustainability and conservation fields from native vegetation restoration to grunion and newt ecology.
Our continuing commitment is also evidenced by the numbers. Renewable energy resources account for 16% of all energy used on campus, our verified diversion rate of recycled materials is 78%, and 30% of our meals come from local foods.
These are just a few of the many ways in which Pepperdine University's sustainable stewardship has shaped our operations and curriculum. Pepperdine continues to strive to incorporate sustainability into our everyday lives through everyday practices.