International Student Ambassador Program
Meet the 2019-2020 Student Ambassadors
---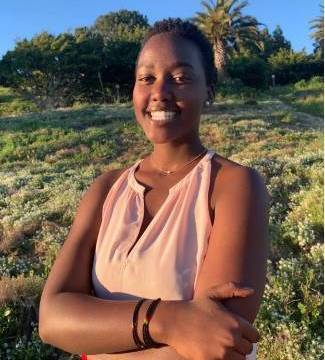 Raica Kwizera
Ambassador representing Sub-Saharan Africa
Sophomore, Major: Political Science
Hello! My name is Raica Kwizera and I am a sophomore from Rwanda. I am majoring in Political Science here at Pepperdine and I am loving my experience so far. Coming to Pepperdine, I knew I wanted to go to a smaller school and not be "just a number" and one year in, I can confidently say Pepperdine's unique and tight-knit community has given me that and so much more.
I grew up in Rwanda where I went to school up until 9th grade when I moved to a college-prep boarding school in rural Utah for my high school career. From there, I found a love for fostering a sense of community with and in the people around me who were drawing from all types of diverse backgrounds. I am beyond excited to serve as one of the International Student Ambassadors, continuing to grow this global family at Pepperdine! Feel free to reach out to me if you have any questions/concerns or if you ever just want to chat!
---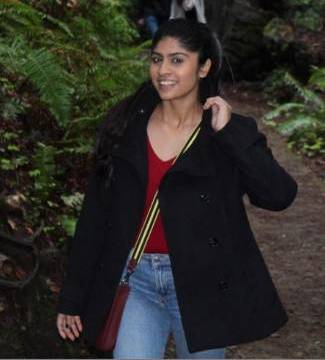 Dania Ashraf
Ambassador representing Middle East & North Africa
Junior, Major: Economics
Hi everyone! I was born and raised in Karachi, Pakistan. I am a Junior pursuing a major in Economics and a minor in Computer Science. I'm a good listener, love food, like to be socially active and enjoy exploring the city with friends. I understand moving to another country and transitioning into a new culture can be difficult, I was in your shoes two years ago and I would love to sit down to share my experiences with you in order to guide you and help you adjust better. Even if you don't have any questions come by for a chat so I can be one of your many friends at Pepperdine! I'm really excited to be serving as an ambassador this year and getting to know you all!
---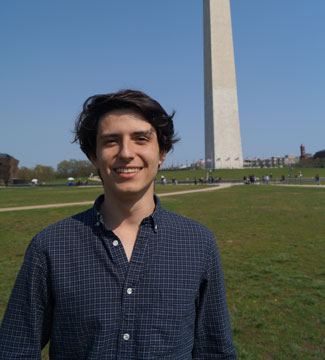 Daniel Iturri
Ambassador representing Europe
Senior, Major: International Studies
Favorite food: Arroz Negro
Clubs/organizations: Model UN, Ceramics club, LSA
My name is Daniel and I am a senior from Seville, Spain, majoring in International Studies with an emphasis in Political Science. I first moved to the United States at age 14 to study abroad in Tennessee, and haven't stopped traveling abroad since. I have lived and worked in 7 different cities in the past 6 years, including Casablanca, London, and Washington D.C. Besides politics, I love theatre, art, and ceramics. I am extremely excited to be an ambassador for a second year, and cannot wait to meet and connect with all of the new international students at Pepperdine!
---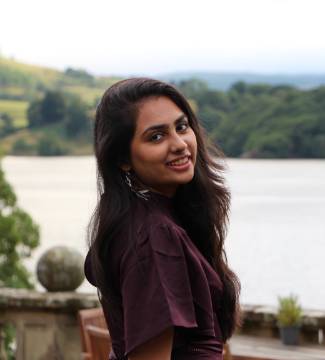 Heet Ghodasara
Ambassador representing South and Central Asia
Senior, Major: Business Administration
Favorite food: Panipuri
Clubs/organizations: Rotaract International, Microfinance Club, Project Serve, Her Campus, International Justice Mission, Indian Student Association
Hey! My name is Heet Ghodasara. I am a senior from India, majoring in Business Administration. Pepperdine has developed and grown me in ways I didn't think were possible. Since the start of freshmen year, I have had so many different opportunities to try something new and grow as a person- from being a student researcher to a published scholar, from joining a club to leading it as a president, from doing internships in Washington DC to speaking at conventions, from serving a nonprofit in Hawaii to visiting Peru for Educational field trips, I think Pepperdine has given me more than I could ask for. I am so excited to serve as one of your ambassadors for a second time. I have been in the shoes of an anxious incoming international student and we probably had the same uncertainties. I am always down to meet up for coffee or try out new restaurants. Feel free to reach out and I will try to turn the obstacles you encounter into stepping stones.
---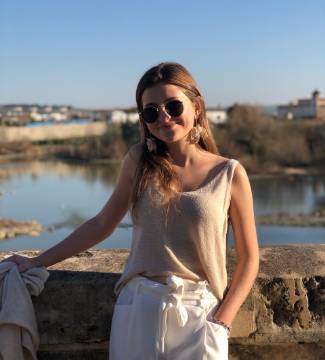 Maria Belen Iturralde
Ambassador representing Latin America, the Caribbean & Canada
Senior, Major: International Studies
Hi! My name is Maria Belen Iturralde and I am from Quito, Ecuador. I am a senior at Pepperdine majoring in International Studies, with a minor in Nonprofit Management. I studied abroad in London for a year and participated in the Washington DC program for a semester as well. I love traveling, art, meeting people, good music and food (mucho). I really like being out and I talk a lot, so please reach out if you need someone- I'm happy to be meeting everyone soon!
---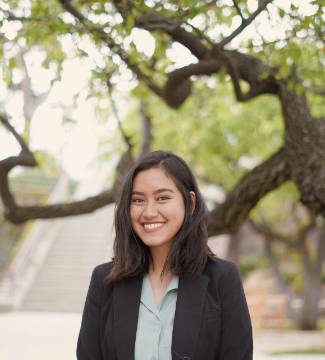 Bea Midesya
Ambassador representing East & Southeast Asia
Junior, Major: Media Production
Favorite food: Butter popcorn, Ayam goreng tulang lunak
Clubs/organizations: Alpha Kappa Psi, Blue and Orange Indonesian Society
Hey! My name is Bea and I'm a junior currently studying Media Production. I was born and raised in Jakarta, Indonesia and I moved to Malibu in 2017 as a freshman at Pepperdine University. I've always had a strong passion for pop culture, video editing, and learning different things about different places. One of my biggest goals is to work at a film trailer agency and help create those awesome teasers we see all the time! During my freshman year, I definitely had some highs and lows as an international student and I'd love to help overcome any lows with you throughout the year, so don't be shy to reach out! Talk to me about predictable 80s teen movies, GOT7, spicy food, or really anything that comes to your mind, I'm always open for a good talk!
---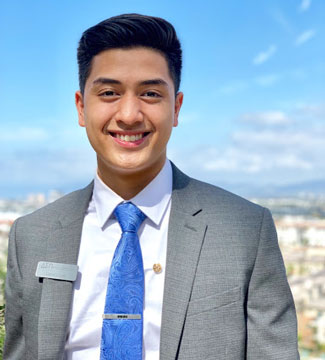 Daniel Lopez
Ambassador representing Third Culture Kids
Sophomore, Major: International Studies, Minor: Nonprofit Management and Religion
Favorite food: Spam Musubi and Ramen
Clubs/organizations: AlphaOmega, Campus Ministry, Delta Sigma Pi Business Fraternity, HOPE Worldwide, POSSE Foundation, Glazer Institute for Jewish Industries
Hi! I am a sophomore studying international studies (management), nonprofit management, and religion. I was also born in the Philippines and raised in Cambodia until the age of 13. My experience transitioning to the United States, although very difficult, solidified my passion for fostering community among those of different backgrounds. Spiritually, I aspire to deepen my faith and respect the faith of others. Professionally, I dream of a career that bridges ethics and profit, contributing to a better community. Culturally, I strive to gain cultural insight by serving communities that I want to get to know. I have learned that in order to grow personally, I have to embrace the times in which I am at my weakest— so don't be afraid to reach out. I'd love to hear your story and share mine as well!